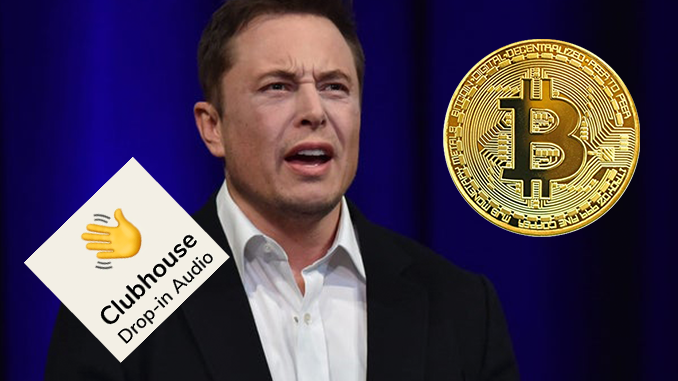 Elon Musk has spoken out more clearly than ever before in favor of Bitcoin. The Tesla boss is now letting Bitcoin be his motto on Twitter and justified his stance in somewhat more detail in a conversation at Clubhouse.
There are those who say that ever since Donald Trump was barred from Twitter, Tesla CEO Elon Musk has been the most followed public figure there. Musk experienced at least an idea of what his verbal messages can move on Twitter on Friday. When he populated his short bio on the short messaging service with the hashtag Bitcoin, the price curve of BTC shot up by 8,000 U.S. dollars within a short time. After all, Elon Musk is now estimated to be the richest person in the world with a fortune of more than 180 billion US dollars. If such a successful man makes Bitcoin his motto, he will probably be right and it is worth following his direction – this is apparently how Elon Musk's fans think.
When it comes to Bitcoin, the 49-year-old was considered indecisive for years. True, he hinted here and there that he found the concept of cryptocurrencies interesting. But while he sometimes gave the fun coin Dogecoin (DOGE) a joking platform, he held back on Bitcoin. Now, however, he let loose on Bitcoin at Clubhouse, the audio app of the moment. There, according to Forbes, Musk explained that there had been efforts in his circle since 2013 to get him to invest in Bitcoin. Now in 2021, he is "late to the party" but clearly a "supporter of Bitcoin." Accordingly, Musk sees Bitcoin on the cusp of being accepted by the mainstream of conventional finance, and generally as a "good thing."
On Elon Musk now Bitcoin advocate
Musk's reasoning puts him in line with the likes of MicroStrategy's Michael J. Saylor and Square / Twitter's Jack Dorsey. Their companies have already invested extensively in Bitcoin. They expect it to provide inflation protection and profit opportunities. Musk, too, has already inquired whether and how Tesla could shift reserves into BTC. But the announcement, hoped for by some, to implement such thought experiments with a model character in reality has so far failed to materialize. What is remarkable, however, is Musk's admission at Clubhouse that he has to be careful with his statements on Twitter – because they could influence the markets. Musk counts around 45 million followers on Twitter. On cryptocurrencies other than Bitcoin (and Dogecoin) he has no clear opinion, Musk said now.
Conclusion: Will Tesla include Bitcoin in strategy?
Even though Elon Musk has now made a positive commitment on Bitcoin, it is uncertain whether he will swear Tesla to a similar course. If, for example, Tesla were to accept Bitcoin in payments or integrate a digital wallet for BTC into its vehicles, that would be a clear pro-Bitcoin sign. Tesla investing in Bitcoin would also generate a lot of public attention. But for now, such scenarios are merely positive assumptions and not backed by tangible information. But Elon Musk must now finally be added to the list of influential personalities in whose power it is to support Bitcoin with words alone.
---
Best place to buy Bitcoin: