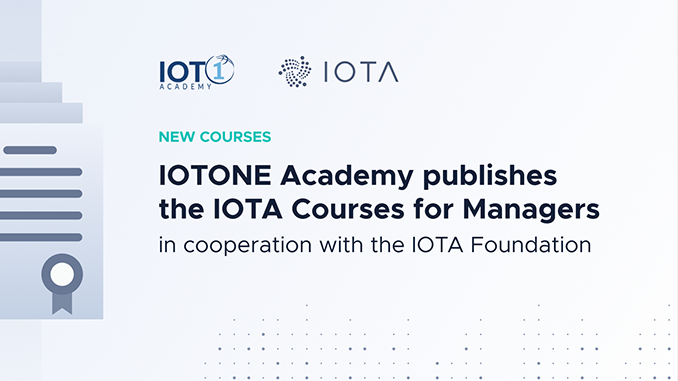 In cooperation with the educational institute IoT One Academy, the IOTA Foundation now offers courses for managers and consultants who have no previous knowledge of programming or block chain technology. The aim is to demonstrate the advantages of IOTA and increase its popularity.
IOTA as a crypto-currency and ecosystem with specialisation in the Internet of Things (IoT) is doing a daily job of convincing target groups in industry, science and finance. Often this is done through concrete cooperation with universities, interest groups or companies. In addition, the IOTA Foundation has already started learning programs in April 2019, which are offered in partnership with the IoT One Academy. While the first courses were primarily aimed at developers and programmers, the focus is now also on decision makers without experience with crypto and distributed ledgers. "IOTA Courses for Managers" is the name of the program, as the IOTA Foundation announced via blog post.
IOTA for managers – what is on offer?
The new IOTA courses are available in English, German and Spanish. The regular prices start at 599 Euro, with student discount it is only 299,50 Euro. In the basic version you learn via an app and there is no personal support included. This requires more expensive versions, the regular price is 999 Euro. There is also the possibility to book a weekend in Berlin. IOTA and IoT One name managers, consultants, strategy developers and related professional fields as the target group.
With a time commitment of 3 to 4 hours per week plus voluntary homework, the course participants should gain solid knowledge about block chains and crypto currencies in general and the ecosystem of IOTA in particular within six weeks. Case studies are used as well as prognoses for the future of IoT. The participants will also be prepared for how to overcome resistance and reservations against the use of new technology at their workplace. On request and at additional cost, a certificate of the IOTA Foundation can also be issued at the end of the training.
Conclusion: IOTA training courses – a good idea
The move by the IOTA Foundation to expand the range of officially certified training courses makes perfect sense. Because the leap from the niche of specialists is urgently needed for IOTA: The more often IOTA's Tangle and, if possible, its own crypto currency MIOTA is used in practice, the better the chances are of actually becoming a standard. The IOTA Foundation and the IoT One Academy report that their courses for programmers and developers are proving a success. The programmes for managers can now be booked via Eventbrite and can be started daily.
---
Best place to buy Bitcoin: