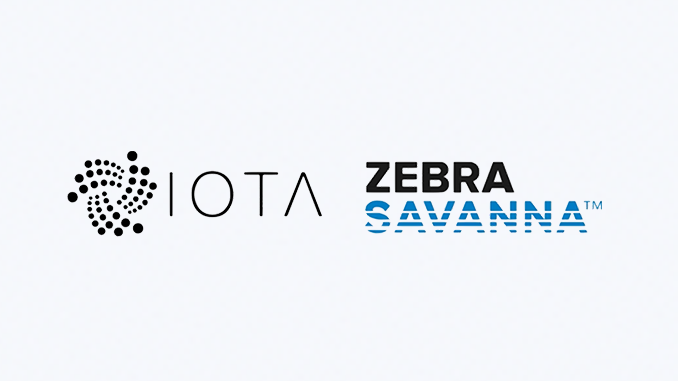 IOTA has found an important cooperation partner in the globally active US company Zebra. Zebra makes a Savanna cloud solution for the Internet of Things (IoT) compatible with IOTA. According to Zebra's own description, this results in an "innovative tandem".
IOTA takes another step out of theory and pilot projects, because with Zebra a major partner from the real economy has been won. On Twitter, IOTA co-founder Dominik Schiener celebrates it as "exciting" to solve real problems from everyday life in industry with a large industrial company.
Background on Zebra and IOTA
Zebra has annual sales of more than four billion US dollars and employs around 7,400 people worldwide. Zebra's headquarters are located in Lincolnshire, Illinois, USA. Zebra is active in many areas of logistics and manufactures barcode scanners and printers for its customers. In addition, Zebra offers a wide range of software and cloud computing solutions to optimize supply chains.
In a short video, Zebra describes the reasons for using IOTA and the concrete design. The starting point is supply chains and processes in logistics, which, according to Zebra, cause around 4 trillion US dollars in avoidable damage every year because many work steps are still not automated and therefore cost a lot of time. In addition, there is the problem of product piracy. According to Zebra, "fake goods" account for three percent of world trade.
Zebra now combines its expertise and products and services with IOTA's Tanglenet. As a result, every step in a supply chain can be recorded and documented in real time in a tamper-proof manner; it is often sufficient to scan a sticker attached to goods. A car tyre is mentioned as an example. This is fitted with the Zebra sticker at the manufacturer and a unique data record is created in the IOTA network for this purpose. From now on, every movement of the product can be recorded and, for example, can be viewed again at customs by scanning it into the already completed customs forms. This saves time and manual work. In addition, the manufacturer and purchaser know at all times where the car tyre is located and when it is expected to arrive at the destination address. The private end customer also benefits: He gets a scan of his tyre's data sheet and sees confirmation that he has bought an original and not illegally copied goods.
IOTA wants to become the industry standard in the Internet of Things (IoT) and has already presented its approaches to improving efficiency in supply chains on many occasions. Together with its partner EVRYTHNG, projects are already being implemented that focus on proof of authenticity for goods.
Conclusion: Zebra and IOTA – two partners that fit
In the cooperation described by Zebra as "tandem", IOTA is undisputedly the smaller partner. But this does not hurt, quite the contrary: Only through such applications of IOTA technology in the real economy does IOTA succeed in proving its practicability. Somewhat painful, however, is the fact that, as is so often the case, IOTA's own crypto currency is not mentioned by Zebra, although it would make sense to automate payment processes in crypto as well. Zebra as a user of IOTAs Tanglenet shows how important it becomes for IOTA to renew its network in terms of scalability and speed. IOTA is already on the finishing line here with Chrysalis aka IOTA 1.5 and wants to bring important components into Mainnet this week.
---
Best place to buy Bitcoin and IOTA: