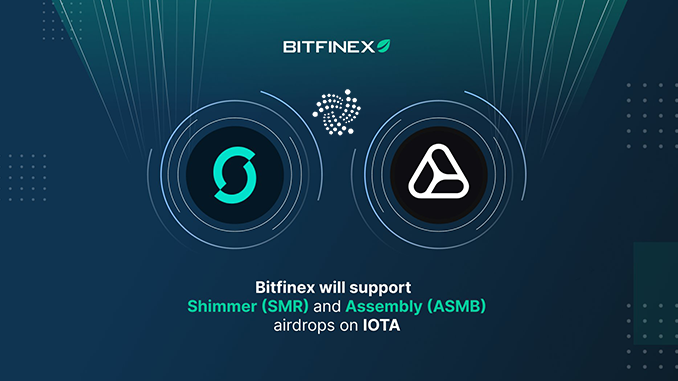 Crypto exchange Bitfinex wants to allow customers to conveniently participate in IOTA staking for Shimmer (SMR) and Assembly (ASMB). And crypto investment firm Grayscale is considering adding IOTA to its portfolio.
While crypto markets seem to be slowly recovering after the weekend's drops, IOTA has two pieces of positive news to look forward to. The first is directly relevant for investors. Because like Bitpanda before, the crypto exchange Bitfinex now also wants to support IOTA Staking for Assembly (ASMB) and Shimmer (SMR). Bitfinex announced this via Twitter. As a reminder, since December 28, 2021, IOTA has for the first time offered the opportunity to be rewarded for holding IOTA for 90 days until the end of March 2022 with the future tokens Shimmer and Assembly.
The IOTA Foundation refers to the process for this as staking, while Bitpanda and Bitfinex refer to it as an airdrop. Bitfinex plans to announce details about the promotion shortly. These are likely to be similar to those of Bitpanda, where an official blog post now lists the conditions. Instead of initiating the staking for ASMB and SMR via the official IOTA wallet Firefly itself, it is sufficient at Bitpanda to confirm participation in the broker app or its web version. It is explicitly pointed out that the due Assembly and Shimmer will only be credited when their networks go live and the coins are listed on Bitpanda.
In an interim conclusion after about the first third of the staking period, the IOTA Foundation believes it is well on its way with Assembly and Shimmer. Already, more than 1.68 billion ASMB and more than 420 trillion SMR have been reserved through IOTA staking, according to Twitter. The announcements by Bitpanda and Bitfinex suggest that the tokens are not only theoretically valued, but are also expected to be priced in the future. However, Bitpanda notes that this is not expected until Q2 2022 at the earliest.
Grayscale hoists IOTA onto watch list
The planned expansion of the IOTA ecosystem may also have helped attract the interest of Grayscale. In any case, according to its own announcement, the well-known U.S. investment firm has added IOTA to the group of cryptocurrencies it is watching with a view to potentially offering them to clients. Currently, just over 40 altcoins have "under review" status with Grayscale, 25 of which have now been newly added, including IOTA. As IOTA often feels it receives less interest in the U.S. than it deserves, Grayscale's move was greeted joyfully in the community. However, whether there will actually be a Grayscale financial product launched in the near future with IOTA as its content is by no means certain.
Conclusion: IOTA gains recognition from financial professionals
IOTA staking has been a breath of fresh air, as evidenced by the customer-friendly behavior of Bitpanda and Bitfinex. Since IOTA takes a special path technologically, the integration of staking is not a matter of course for crypto exchanges either, but ties up resources. Bitpanda and Bitfinex provide these, probably for reasons of customer loyalty. And Grayscale's official mention of IOTA is also an indication of how the planned expansion of the ecosystem by Assembly and Shimmer is sparking new momentum. However, the news has not (yet) been rewarded in terms of price: The price drops on the crypto market have also caused IOTA to fall by around 25 points in the last seven days; IOTA is currently trading at around 0.82 US dollars and thus at levels last seen in the summer of 2021.
---
Best place to buy Bitcoin and IOTA: