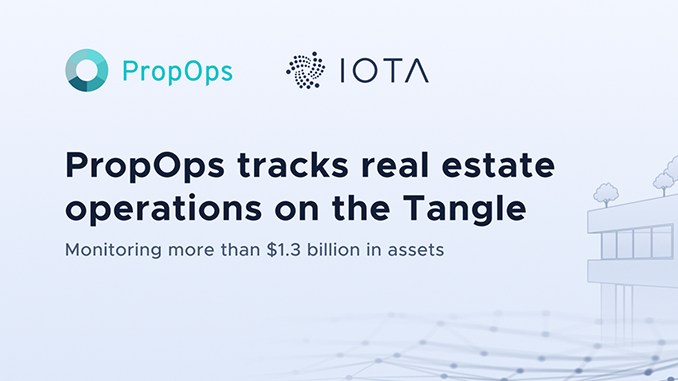 PropOps is a digital service provider for real estate management and in the future will rely technologically on solutions from IOTA. This involves consistently collecting data on buildings to make management more efficient.
The IOTA Foundation has already gained good experience with commitment to smart cities. Now the IT service provider PropOps wants to anchor real estate management in IOTA's Tanglenet. For this purpose, relevant data on the properties will be entered into a closed network, which is technologically based on IOTA 1.5, according to a statement. Accordingly, PropOps currently takes care of real estate worth about $1.3 billion in data collection and management, and aims to crack the $10 billion mark here by 2023.
In concrete terms, PropOps collects and digitally documents all the important information on the respective buildings, from rental contracts and invoices with energy suppliers to the year of construction and condition reports of the properties. PropOps calls its system the PropOps Cloud and now bases its technology on IOTA. Data is stored there in a tamper-proof manner and can be partially or fully released to external parties as needed. Looking ahead, this method could, for example, simplify real estate lending or make it easier to set up property management transparently and efficiently.
For PropOps, co-founder Philipp Feil said the choice of technology partner fell on IOTA because millions of transactions can be managed there. For the IOTA Foundation, cooperation director Holger Köther emphasized the fee-free nature of Tanglenet. PropOps exemplifies how the latest technology can create competitive advantages for companies. Both parties want to transfer their expertise into industry-ready products. Details of the deals, including financial ones, were not disclosed. There are apparently no plans to use IOTA as a means of payment.
Conclusion: IOTA in real estate management – a sensible approach
Whether it's a dispute over service charge billing or applications for subsidies for renovations – there are many more examples in which property managers have to compile data from a variety of sources and also have to consider aspects of data protection. An incorruptible database, which will now be stored in the IOTA PropOps Cloud, simplifies such processes and creates trust. With reference customers such as LBBW Immobilien and the Dussmann Group, IOTA and PropOps have a good starting point for their project, and the intended rapid growth course could work. In the medium term, IOTA is also likely to return to its original topic, the Internet of Things (IoT), in this cooperation. After all, in new construction projects or modernizations, measuring devices are integrated into real estate as standard, for example to align heating output with the weather forecast. In the short term, however, the announcement of the partnership between IOTA Foundation and PropOps failed to provide any impetus to IOTA's price curve; IOTA is trading just above USD 1 and is unable to decouple itself from losses on the overall market.
---
Best place to buy Bitcoin and IOTA: