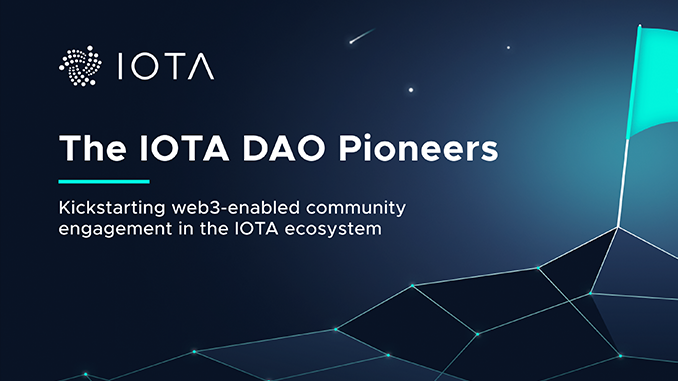 The topic of DAO is gaining importance in the crypto industry. This refers to decision-making processes organized via the blockchain. The IOTA Foundation is involved in terms of content and funding.
The spectacular revelations about who was behind the DAO hack at Ethereum brought the acronym for "Decentralized Autonomous Organization" into the headlines a few days ago. The concept of DAO became a huge failure at Ethereum in 2016 due to security vulnerabilities. But the actual idea of DAO is becoming more and more popular, for example through the DeFi division, and IOTA also wants to get in on the action. Titled "The IOTA DAO Pioneers", a blog post from the IOTA Foundation summarizes what's going on.
The IOTA Foundation defines a few points as the basic pillars of DAO. According to this, a Decentralized Autonomous Organization is composed of people who want to be active without a central leader. A DAO community brings together ideas, proposals and investments via blockchain technology and lets its members vote on them. Smart contracts then ensure that DAO decisions are implemented automatically.
To explore how and for what DAO can fill roles in IOTA's ecosystem, an online learning program has been offered since November 2021. Nearly 500 individuals participated in this, according to the IOTA Foundation, and the initiative culminated in an "Ideathon." This saw Smart Contracts AG, a sub-organization of the foundation, offer a total of €100,000 to fund five DAO projects under IOTA.
DAO at IOTA – these projects are to become pioneers
Eight Dao project applied to the "Ideathon" and the following five were selected:
IOTA ecosystem interactions DAO wants to take over management and organization of channels like Discord and Telegram in relation to IOTA.
IOTA Content Creator DAO wants to cater to creators, from artists to writers to designers.
DePa Pirates Party DAO wants to bring IOTA technology to link pirate parties worldwide through a DAO. Pirate parties have internet and online as their main topic not only in Germany.
The Fans Together sees DAO as a logical basis for bringing sports clubs and their fans together. Fan tokens already exist at various world-famous clubs in sports like soccer.
Behind WAGMI DAO – IOTA ecosystem community fund is the approach to manage IOTA investments.
These five projects will receive money from the prize pot in the next five months and will also be further supported by the IOTA Foundation with know-how. They are each expected to deliver an interim and a final report. With the materials collected through the online learning course, this will result in a knowledge base for all DAO initiatives under IOTA, is the overall goal.
Conclusion: IOTA as a basis for DAO – theoretically with potential.
DAOs as a method of organizing self-governance in crypto projects are in vogue. IOTA could score in this field by the fact that actions in the network are free of charge. However, IOTA has not yet fulfilled the basic promise of decentralization and the decentralized IOTA 2.0 aka Coordicide has not had a target date for quite some time. So observers are rather wondering how IOTA will even cleanly implement the announced vote to "unclaimed tokens" worth millions. Because a DAO would actually be logical here – but it fails because of the central coordinator, which still seems to be technologically irreplaceable at IOTA and also hinders smart contracts.
---
Best place to buy Bitcoin and IOTA: