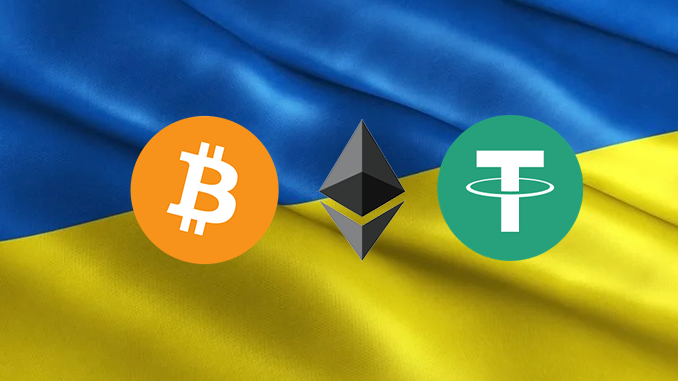 There is a war going on in Ukraine and solidarity is being shown internationally in the fight against Russian aggressors. Official Kiev is also accepting donations in Bitcoin, Ethereum and Tether. Millions are raised in the process.
The bloody news from Ukraine does not stop – Russia ruthlessly continues its war of aggression on the democratic neighboring country. In this absolute emergency, the leadership in Kiev is asking for help on all channels. A novelty in this: the Ukrainian central bank and government have created crypto-wallets to which donations can be made in Bitcoin (BTC), Ethereum and Tether (USDT). This option is being used briskly, as blockchain data shows. For example, as of Monday morning, the government's verified Bitcoin wallet has accumulated nearly $4.5 million in BTC, and the one for Ethereum (here) has accumulated nearly $5.6 million.
In the case of Ethereum, ETH inventor Vitalik Buterin had caused confusion on Saturday. He doubted via Twitter that the widespread address for the Ethereum wallet was correct and suspected scam. But then Buterin admitted his mistake and transparently corrected his assessment via tweet. Buterin, born in Russia, made it clear at the very beginning of the war that he considers Russian aggression a "crime" and expresses solidarity with Ukraine.
Meanwhile, other big names in the crypto scene, such as Binance founder CZ, are also spreading the word about Ukraine's calls for crypto donations via Twitter. Binance has also set up a relief fund that has been enriched with $10 million directly from crypto exchanges themselves and where, according to the website, nearly $6 million in bitcoin has also already been donated. The crypto scene may demonstrate little political interest in normal times – but here and now it is showing reaction and siding with Ukraine.
Conclusion: donate to Ukraine in crypto – but beware of scam
We deliberately refrain from publishing further appeals asking for crypto donations for Ukraine. These addresses here are many times officially confirmed and trustworthy, we also consider Binance's action to be reputable. If you also want to support Ukraine financially with crypto and are looking for further contact points – please make sure to check if they have a comprehensible background. Unfortunately, the willingness to help also attracts scammers who aim to enrich themselves personally and let donations flow into their own pockets.
---
Best place to buy Bitcoin: