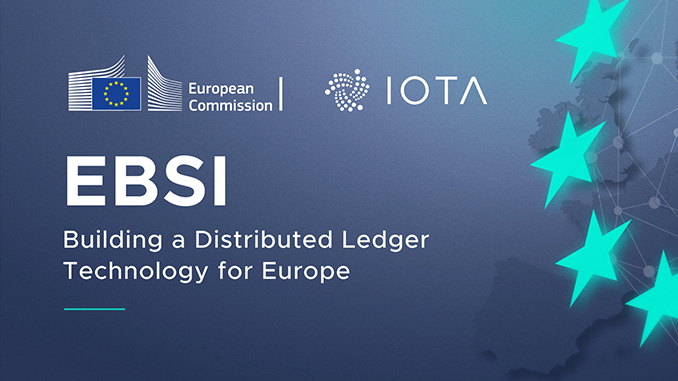 The IOTA Foundation has been selected for the shortlist of projects that could build an EU-wide blockchain called EBSI. EBSI will provide for the exchange of official data in the future.
Under the name EBSI for European Blockchain Services Infrastructure, the EU member states want to create an infrastructure that securely documents digital identities, tax data or certificates, for example, and makes them available across national borders. In the process, the IOTA Foundation prevailed in a first selection round among more than 30 applicants to be among the 7 projects that could put EBSI into practice, according to a blog post. IOTA has contributed to EBSI with the internationally active Software AG and now hopes, after two further selection rounds, to be further on board in the development of EBSI from 2022. The IOTA Foundation not only stands to gain prestige, but also money. A good 6 million euros in public funding has initially been earmarked for EBSI.
With its Tanglenet, IOTA considers itself ideally equipped to take over core tasks at EBSI. This is because the structure of the Tanglenet allows for fee-free queries and actions, which occur, for example, when a document is stamped. IOTA as a cryptocurrency is then well suited to pay small amounts for such services. Another advantage of Tanglenet is that IOTA has a good energy balance because it does not require mining. In addition, IOTA already has experience with pilot projects on digital identities that comply with strict EU regulations on data security and digital self-determination.
According to the self-representation, EBSI has already started to create nodes as network points in EU countries. In Germany, responsibility for cooperation with EBSI lies with the Federal Ministry for Economic Affairs and Energy. The Berlin-based IOTA Foundation is likely to hope for support from here. Among the other 6 pre-selected EBSI partners, Belgium is represented by two entrepreneurs who have good contacts in Brussels.
Conclusion: IOTA Foundation with European prospects
The wrangling over the EU vaccination passport in Corona times has shown: Brussels has recognized the potential of blockchain solutions for many different areas of daily life. But which partners are then tasked with implementation is always also a political decision. The IOTA Foundation tends to be right that a further developed Tanglenet could be a good fit for EBSI. What is needed now is commitment and a lobby to get through the sharp selection process and actually place IOTA in a leading position at EBSI.
---
Best place to buy Bitcoin and IOTA: