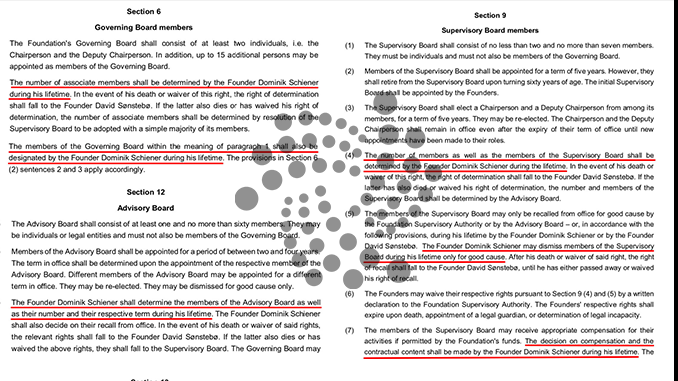 Just recently at the IOTA Foundation the chairman David Sønstebø was fired. Now it turns out: the foundation's articles of association give IOTA co-founder Dominik Schiener sole rights to appoint members to the board of directors and supervisory board for life.
Hopes for a new start at the IOTA Foundation have suffered a severe setback. Admittedly, it was only on December 10 that the controversial IOTA co-founder and foundation chairman David Sønstebø was removed from his position. But what initially seemed like a long-overdue liberation blow now appears to a different light. The self-professed IOTA detective "Hund" publishes via Twitter and on his web presence the English-language version of the foundation's statutes. And lo and behold, with the departure of Sønstebø, de facto all power now lies with Dominik Schiener, who once co-founded IOTA and currently runs the day-to-day operations as vice-chairman of the foundation.
Dominik Schiener now unchallenged boss at IOTA by statute
The bylaws clearly state: Dominik Schiener has the sole right for life to appoint members of the Executive Board, Supervisory Board and Advisory Group at the IOTA Foundation. Amendments to the articles of association would also have required his approval. In the event of Schiener's death or the waiver of his rights, they would have passed to Sønstebø according to the articles of association. In plain language, the only person in IOTA's closest leadership circle besides Schiener who was mentioned by name in the bylaws was Sønstebø, who could have used this under certain circumstances to strengthen his position in internal power struggles. But Sønstebø is now out and Schiener is thus finally and for life boss at IOTA.
This automatically makes you wonder: How could such strange regulations even get into the statutes of a non-profit foundation and why were they previously unknown? It is not at all unusual for a founder of a foundation to be granted special rights – even for life – even if one then usually tries to build in a fair corrective for cases of abuse of power. But as I said, even the supervisory board at the IOTA Foundation is dependent on Schiener, and it can dismiss members. Equally dubious: to the best of our knowledge, the statutes are not even publicly deposited on the official website of the IOTA Foundation.
So it was once again "dog", who with his sheer tireless researches put salt in open wounds at IOTA. That the problem of the statute in the now presented form was conscious to the executive committee of IOTA, it proves by a discussion protocol. Schiener has not yet commented on the latest revelations by "Hund". He acted in the same way when "Hund" accused him of a past as a criminal hacker back in June and deduced from this that Schiener was completely unsuitable for leadership positions in a non-profit foundation.
Conclusion: IOTA Foundation does not come to rest – weak point Schiener?
Schiener had recently staged himself as a thought leader for the working world of the future. But in the current situation, it should be a matter of course for him to explain how the strange-seeming and far-reaching exclusive rights for him at IOTA Foundation came about. Possibly one would expect him to initiate a reform of the statutes himself.
In the meantime, one thing is certain: the seemingly endless drama surrounding the IOTA founders is experiencing the next act. Dominik Schiener is now the center of attention and those who have repeatedly called for more transparency at IOTA have been given new fire powder. The IOTA project has rarely cut a good figure in the crypto year 2020 anyway and is once again getting into negative headlines on the final stage, which is shaking confidence in IOTA.
---
Best place to buy Bitcoin and IOTA: