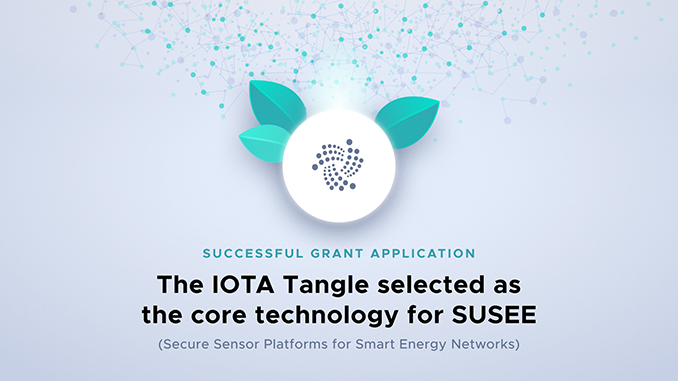 The IOTA Foundation is a project partner in the German pilot project SUSEE (Secure Sensor Platforms for Smart Energy Networks). There, IOTA serves as a network to transmit data from digital electricity meters.
IOTA is pleased to participate in a pilot project where its own core competence as a network for the Internet of Things (IoT) can be demonstrated. The Tanglenet is planned as a core component for SUSEE, according to a blog post. Behind the acronym SUESEE is the somewhat unwieldy task of "Secure Sensor Platforms for Smart Energy Networks." SUSEE is being funded by the German Federal Ministry for Economic Affairs and Energy with a good 2.6 million euros until 2024. How much of this will go to the IOAT Foundation was not disclosed.
The project manager for SUSEE is mCloud Systems. The company focuses on IoT solutions for industry. At SUSEE, households and commercial customers of Stadtwerke Osnabrück are equipped with so-called smart meters. These are able to independently transmit the measured electricity consumption to the municipal utility. IOTA is used here as a network that guarantees tamper resistance, is compatible with many different sensors and encrypts data. For this, IOTA cooperates with peerOS, a company specializing in sensor systems. Scientific participants in SUSEE come from the Chemnitz University of Technology and the Fraunhofer Institute.
In the first step, SUSEE is intended to make manual meter reading superfluous and thus save costs. According to the project description, customized electricity tariffs and other value-added services are also planned. Other smart city projects using IOTA, such as in Norway, are trying to find a balance between electricity generation from renewable energy sources and consumers. For example, the charging of e-cars could be automated into the nighttime hours, when less electricity is otherwise consumed than during the day.
For the IOTA Foundation, Holger Köther, director of partnerships, emphasizes the security aspect in addition to IOT expertise. IOTA could prove at SUSEE how in an IT infrastructure it is ensured to be immune to attacks from hackers. The use of IOTA as a means of payment is not yet planned at SUSEE.
Conclusion: IOTA approaches everyday life in publicly funded projects
SUSEE is another building block at IOTA to gain a foothold in the future market of smart homes and smart cities. One can point to the Tanglenet as well as to a concept that connects autonomous sensors that get by with lower hardware requirements. So far, however, a breakthrough has yet to be achieved in which such pilot projects really do grow into a highly scaled solution in which a standard is created with the help of IOTA.
---
Best place to buy Bitcoin and IOTA: