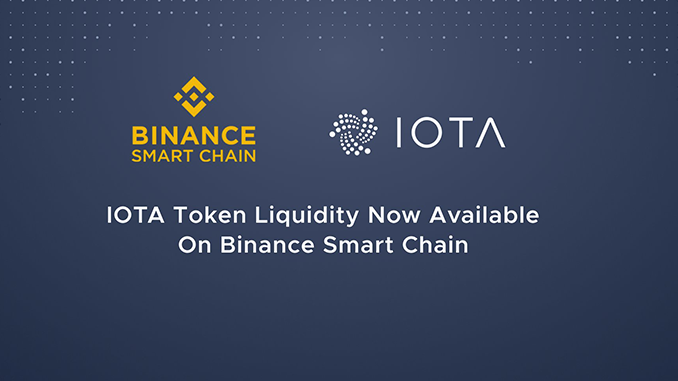 IOTA tokens can now be deposited in the Binance Smart Chain (BSC) ecosystem there. This will generate so-called wrapped IOTA, which will then in turn be valid in DeFi under BSC.
IOTA has basically been excluded from the growing DeFi market until now, as transactions there are usually conducted on the Ethereum (ETH) blockchain or via the Binance Smart Chain (BSC). But in a surprising move, the IOTA Foundation is now hoping to jump on the DeFi bandwagon. In a blog post, IOTA explains how tokens can be brought into Binance's DeFi ecosystem. From there, IOTA says many of the DeFi options based on the BSC will then be available.
IOTA for DeFi on Binance – here's how it works.
To enter your IOTA in the BSC as liquidity, you use the Binance Bridge here. The process is very simple: You just have to connect your wallet to the Binance Bridge and enter how many IOTA you want to transfer. In return you will get wrapped IOTA – which are called IOTA BEP20 at Binance – credited to your Binance Wallet. With this in turn you are connected to the DeFi offer under BSC. Via the Binance Bridge, IOTA BEP20 can also be fed back into the IOTA Tanglenet. In addition to IOTA, the Binance Bridge currently supports other leading cryptocurrencies such as Ethereum (ETH), Bitcoin (BTC) or Cardano (ADA) in providing liquidity in the DeFi ecosystem of BSC.
There, for example, projects such as Pancakeswap or Venus perform the tasks that Uniswap or Compound do in Ethereum's ecosystem. You can find an overview of DeFi projects based on BSC here at CoinMarketCap, for example. We can expect at least some of them to start integrating IOTA BEP 20 in the near future. As it has become clear with DeFi under Ethereum that high transaction fees are hindering further development there, more and more DeFi offerings are settling into the BSC.
Bottom Line: DeFi Hopes for IOTA.
Binance itself has not announced the integration of IOTA in the BSC in a big way. Therefore, the desire for deeper cooperation is likely to have come from IOTA. Actually, IOTA itself wants to create the conditions to open the Tanglenet with smart contracts for DeFi with Coordicide and IOTA 2.0 still in 2021. An alliance with Cartesi (CTSI) was announced just last week for this purpose. For the time being, however, the BSC with its diverse projects is probably the easiest way for IOTA to participate in DeFi.
---
Open a Binance Account here and save 10% on fees for a lifetime.