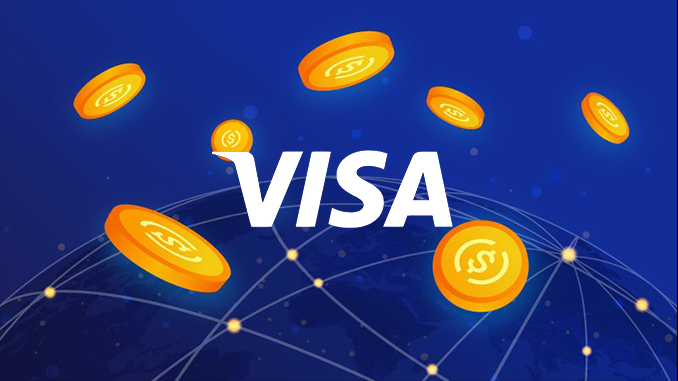 In the network of the credit card company Visa, payments can now also be settled directly via the stablecoin USDC. With this, Visa is taking its first concrete step in the direction of cryptocurrencies.
Visa credit cards are part of everyday life for millions of people; they can be used to pay virtually anywhere in the world. Behind every payment transaction, a settlement takes place with Visa as the central point, which may also include the conversion from one fiat currency to another. As of now, however, Visa is also ready to accept payments with the stablecoin USDC, the company announced in a blog post. The acceptance of USDC is the first result under the strategy to treat cryptocurrencies and traditional currencies equally and in a customer-friendly manner at Visa, it adds.
Background on USDC at Visa
USDC, with a market capitalization of just over $10 billion, is currently the second most important U.S. dollar-based stablecoin after Tether (USDC) and is backed 1:1 by U.S. dollars. Technologically, USDC is an ERC-20 token, so it is organized on the Ethereum (ETH) blockchain. Legally, USDC is the responsibility of the Circle consortium, which includes the major US crypto exchange Coinbase. This solid basis of USDC was decisive for linking Visa concretely to the crypto industry with this stablecoin, Visa writes.
In practice, the procedure is relatively clear: Visa has opened a USDC account with the crypto service provider Anchorage. Via this account, Visa now accepts USDC directly – but for the time being only from Crypto.com. Crypto.com is a U.S. crypto company that issues crypto credit cards itself and also operates a crypto exchange and has launched its own token CRO.
Visa writes that it wants to connect more partners in the near future in terms of USDC. Coinbase with its Visa credit cards is probably on the agenda. It remains to be seen when further cryptocurrencies will be directly supported by Visa. But Visa has – similar to the conkrement Mastercard – repeatedly announced as part of its digital strategy to work on solutions for Bitcoin (BTC) and leading Altcoins.
Bottom line: Visa with USDC – harbinger for more
Payment services directly with Bitcoin and Co. are therefore trickier than with a Stabelcoin, because here the central clearinghouse like Visa or Mastercard takes more risk through higher price fluctuations. But the demand exists and Visa and Mastercard no longer want to close their doors to it. In this respect, message from Visa to accept USDC is actually as described in the official blog post: From the outside, perhaps a small step, but a giant step when you look at the overall situation. Because USDC is now technologically proving for Visa to also open up to its partners in a regulatory and technologically stable way towards cryptocurrencies. The big difference with PayPal's crypto initiative, which electrified the crypto industry in the fall of 2020, is that USDC transactions on Visa's network can completely forgo conversion to fiat, which basically saves fees and time. PayPal is not that far (yet).
---
Open a Binance Account here and save 10% on fees for a lifetime.