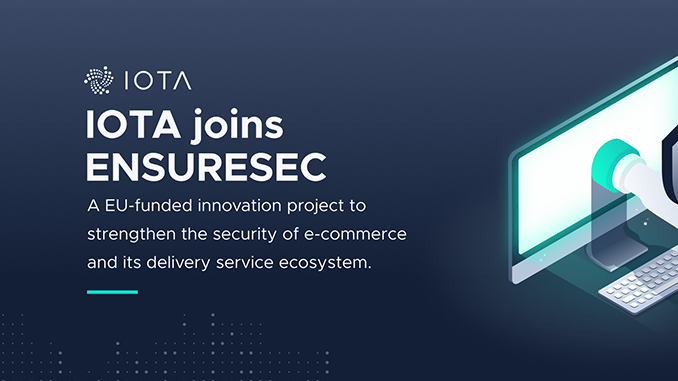 Online orders are booming, the circumstances of the Corona Pandemic are driving the trend further. The EU project ENSURESEC aims to provide retailers with tools to make the e-commerce business secure. IOTA is a partner in ENSURESEC.
The IOTA Foundation is once again pleased to receive money and prestige by participating in an EU project. 450,000 euros are expected for contributions to ENSURESEC, a blog post states. The EU will provide a total of 7.7 million euros for ENSURESEC over the next two years.
Background on ENSURESEC and IOTA
ENSURESEC is dedicated to the topic of security in online business. ENSURESEC was launched as early as 2019. In January 2020, a consortium with the IOTA Foundation won the tender for project funding and is now entering the practical phase. The aim is to help small and medium-sized companies in particular to make their entry or further development in e-commerce secure. This is because smaller market participants usually lack expertise in risks such as cybercrime or counterfeit products.
This situation was already clear in 2019. However, the urgency of ENSURESEC has been further increased by the circumstances of the Corona Pandemic, emphasizes the IOTA Foundation. In the second quarter of 2020, when large parts of the world went into lockdown, Amazon, for example, reported 32 percent growth in goods delivered, IOTA writes. According to IOTA, the UK also saw a good 32 percent increase in online trade in general for this period in a year-to-year comparison.
This development is virtually forcing businesses into the Internet. ENSURESEC wants to offer market participants easy-to-use software largely free of charge that detects when online attacks occur at an early stage. ENSURESEC will also develop modules for payment solutions and the tracking of deliveries. IOTA contributes customized versions of its Tanglenet to ENSURESEC, which can document orders as a tamper-proof network. According to IOTA, Tanglenet also enables ENSURESEC to record overall situations and thus warn participants of security risks at an early stage.
In addition to IOTA, ENSURESEC has 21 other partners in a consortium, including the Fraunhofer Institute from Germany. External companies such as the retail giant Walmart are to advise ENSURESEC. An initial test run for ENSURESEC is planned for the critical e-pharmacy sector with its associated supply chain.
Conclusion: Tanglenet scores, IOTA crypto currency steps on the spot
As exciting and useful as ENSURESEC may seem – it cannot solve the actual problems at IOTA. Once again, the IOTA Foundation is receiving institutional recognition for technology in the form of Tanglenet as a Distributed Ledger. However, the crypto-currency IOTA as a means of payment is not intended for ENSURESEC either internally or for future external users. Thus it is once again confirmed what the price curve of IOTA has been showing for years now and resembles in many ways the fate of Rippele (XRP): In both cases, block-chain-like networks have been developed that are optimized for practical applications in the real economy. These technologically innovative solutions are actually accepted, but not as actually thought, including the associated crypto currencies. A sober look at the price curve of IOTA logically reveals an all-time low at the end when IOTA is put in relation to Bitcoin (BTC).
---
Best place to buy Bitcoin and IOTA: