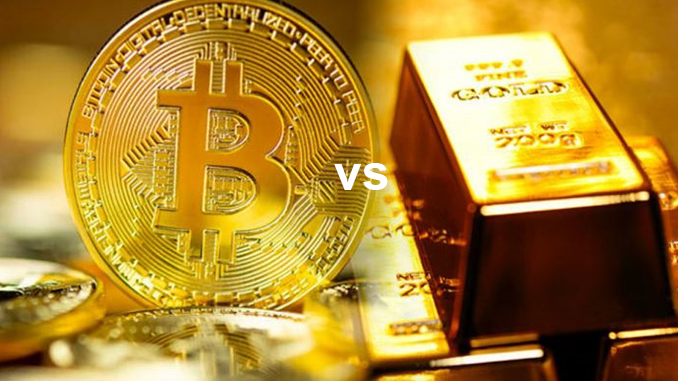 The demand for investments in Bitcoin (BTC) now exceeds that for gold exchange traded funds (ETFs). This is the result of a recent analysis by JP Morgan, the largest U.S. bank. This is confirmed by current figures from Grayscale Investments.
It is not without reason that Bitcoin (BTC) is called "digital gold". As a store of value whose resources are limited, Bitcoin is increasingly scoring points with institutional investors and wealthy private investors. According to the US bank JP Morgan, this development can also be demonstrated in absolute figures. An impressive chart was recently published on Twitter. According to this chart, cash flows in the direction of gold ETFs and Bitcoin were largely parallel from 2019 until spring 2020. However, since the corona crisis became tangible and the stock market weakened in March, Bitcoin Gold was able to outpace Gold.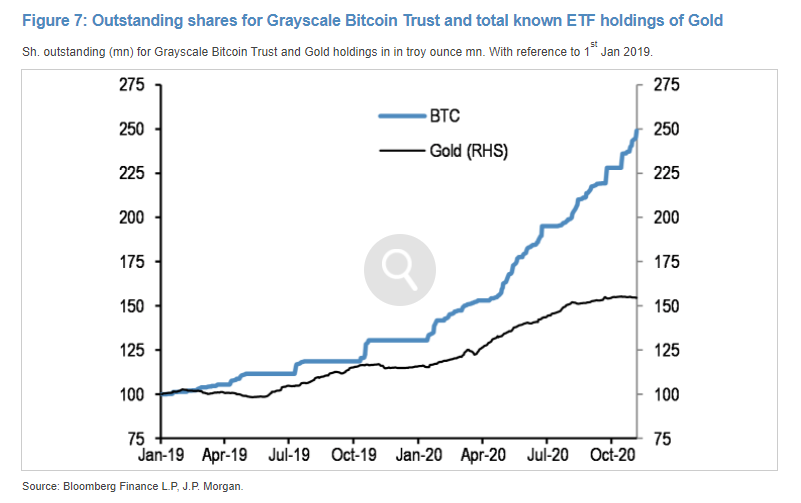 Interesting here is also the context of the publication: The graphic was posted by Michael Sonnenhein, Managing Director of Greyscale Investments. The enterprise administers fortunes, which are to be invested in Bitcoin and CO. Author of the analysis however is JP Morgan, the largest US bank by balance sheet total. Only a few weeks ago, JP Morgan had reconsidered its previous rejection of Bitcoin and recommended BTC as a promising investment. Meanwhile, Greyscale reported a good $1 billion in fresh capital inflows for investments in the third quarter of 2020 alone, a record sum. Greyscale and JP Morgan are competitors in the asset management sector.
Gold or Bitcoin? Major investors discover BTC for themselves
Sonnenheins concludes from the current numbers that for example family fortunes in Bitcoin see meanwhile more Potenzial than in gold. Compared with BTC, gold became ETFs, which are easily tradable as exchange-listed funds. Bitcoin ETFs have not been approved by the stock exchange supervisory authority in the USA despite repeated attempts by well-known companies.
Major investors have traditionally seen gold as an opportunity to invest reserves in an inflation-proof manner. In general, the demand for value stores away from Fiat is growing, as the expansive monetary policy of central banks worldwide is fuelling inflationary dangers in the Corona crisis. In addition to the irrevocably fixed maximum amount of 21 million BTC, the prospect of leaving other asset classes far behind in terms of value growth, as in the past, speaks in favor of Bitcoin. The Bayerische Landesbank, for example, when comparing Bitcoin with gold, comes to a forecast of 90,000 US dollars per BTC in the near future. The Winklevoss brothers, for example, also praise the advantages of Bitcoin over gold and even expect a price of 500,000 per BTC in the longer term.
Conclusion: Invest in Bitcoin now?
BTC is currently quoted at a good 15,000 US dollars and is thus still a long way from the regions that experts believe it is capable of. Sometimes the comparison to gold in the past seemed somewhat theoretical, since it was only the admission of exchange-traded financial instruments based on gold that drove up the price after 2000. But recent trends show that as long as no Bitcoin ETFs are available, large investors will find other ways to store assets in BTCs, such as through greyscale investments. This development speaks for a continuing high new demand for Bitcoin and thus positive price developments.
---
Best place to buy Bitcoin: