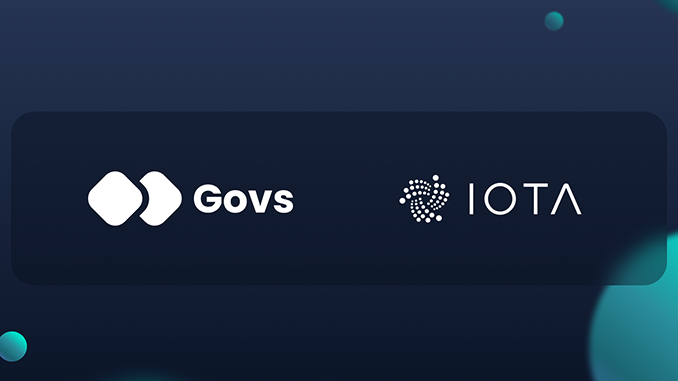 The IOTA Foundation has launched two new projects that focus on data management and climate protection. Financial support is provided by Google.org.
Looking for real-world applications for IOTA, the foundation has two pieces of news: First, U.S. startup DataGovs will use IOTA technology to optimize data management in smart homes and cities. Second, the IOTA co-founded organization Open Collaboration will get a 2022 budget through a $1 million donation from Google.org to develop solutions related to climate action and sustainability.
DataGovs' collaboration with IOTA and Assembly (ASMB).
According to IOTA's blog post, DataGovs relies on a simple iOS app to aggregate and share data from various Internet of Things (IoT) sources. IOTA's Tanglenet and a customized wallet serve as the technological foundation. Sensors from charging stations for e-cars, heating controllers, water meters and more are cited as examples of the application. DataGovs takes care of keeping both connected machines and human users informed about the status of the facilities in use in real time. This allows for either automated higher efficiency or manual intervention. For example, an e-charging station would then charge the connected vehicle when demand for electricity from elsewhere is low. Holger Köther of the IOTA Foundation also specifically mentions Assembly (ASMB) for DataGovs' project. This token, based on IOTA technology, is currently being prepared through staking and is designed for commercial use. However, it is not yet known when Assembly will be officially launched.
Background on Open Collaboration with IOTA
Open Collaboration was founded in 2021 by the IOTA Foundation, ClimateCHECK and the NGO Gold Standard. A $1 million donation from Google.org has provided important help for Open Collaboration's budget this year, according to an IOTA Foundation blog post. In addition, Dell Technologies will contribute content. Open Collaboration develops everyday solutions that work to achieve the goals of the Paris Agreement on climate change and other sustainability initiatives. In doing so, it has a presence in developing countries through Gold Standard, for example. IOTA is in demand for Open Collaboration as a technological foundation.
Conclusion: IOTA finds new showcases, first with Assembly (ASMB).
It is always encouraging for IOTA to generate interest among NGOs, startups and institutional partners. The plus points of IOTA freedom from fees and future scalability come into play in such projects, he said, where efficiencies are created by means of smart data management and intersections between IoT and users. Climate protection and resource management are growth markets and worthy of support. For IOTA as a cryptocurrency, however, many such projects remain foreign territory, because mostly only IOTA technology is used. Here it will have to be observed how DataGovs integrates the announced IOTA Token Assembly (ASMB) into the overall commercial concept.
---
Best place to buy Bitcoin and IOTA: