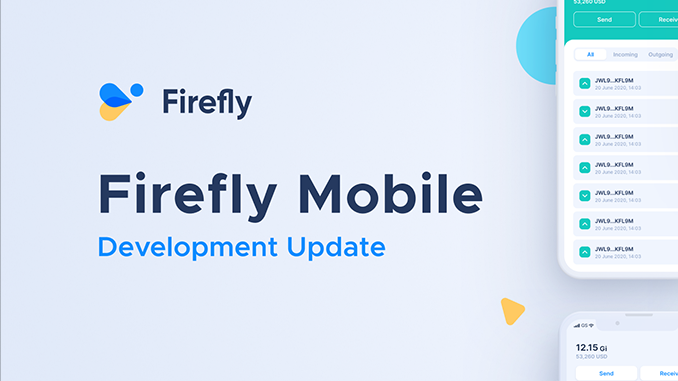 The mobile versions of the official IOTA wallet Firefly have been announced for half a year now. But the latest progress report on this does not even include test versions.
Software wallets on smartphones have become the standard for Bitcoin and Co. to access tokens on the go. In the case of the official IOTA Firefly Wallet, the tasks go beyond sending and receiving IOTA in perspective, for example, the digital IOTA Identity is also to be organized there. Against this background, the latest blog post of the IOTA Foundation about the mobile versions of Firefly does not encourage much. The only thing that is basically new is that the previously internal development work on IOTA Firefly Mobile is now also being documented for the public and that comments and collaboration are welcome.
In addition one should know: Due to the changeover to IOTA 1.5 aka Chrysalis at the end of April, the Firefly Wallet has virtually become a must for IOTA. Because IOTA with its Tanglenet as technological basis is usually not compatible with the usual wallets, there is no reasonable native fallback option. Thus, it was also promised in the spring that IOTA Firefly Mobile would be added quickly. But Firefly still only exists in desktop versions for Windows, Mac and Linux. IOTA boss Dominik Schiener had also said several times that mobile versions would have priority. But not even a test version is in circulation so far.
IOTA users lose patience waiting for Firefly Mobile
As a result, some of the comments on Twitter about the further delays in mobile wallets are not very flattering. It is noted, for example, that programming an app is truly no magic work and should not take months. Another justified objection is that many people no longer have desktop PCs or laptops, and smartphones are the measure of all things in less developed countries anyway. Without being able to access IOTA on mobile, IOTA would therefore exclude itself from these groups. Further it is reminded that without the Firefly Wallet a migration of "old" IOTA 1.0 into the Tanglenet of Chrysalis is not possible.
Meanwhile, the IOTA Foundation writes that they have again advertised a position for the team behind IOTA Firefly Mobile. Without giving dates, a public alpha version for public testing is now promised. This is to be followed by a beta version of Firefly Mobile, which will then be officially released after security checks. With optimism, IOTA Firefly Mobile can thus be expected for the 1st quarter of 2022, but realistically, the 2nd quarter of 2022 seems more likely.
Conclusion: IOTA misses the boat on mobile
The history of official IOTA wallets is burdened by negative experiences anyway. Firefly's predecessor, Trinity, was released in July 2019 after a ten-month wait – and revealed a critical security vulnerability six months later, forcing the shutdown of the IOTA network for almost a month. For Firefly Desktop, on the other hand, the connection to Ledger hardware wallets dragged on for months.
So now it's Firefly Mobile, where full-bodied promises from the IOTA Foundation are not being kept. In addition to the damage to its image, it's important to keep in mind: Use cases like IOTA Identity for vaccination certificates, for example, make no sense without mobile versions of Firefly, so this is not a luxury problem, but a fundamental gap for the IOTA ecosystem. And the much-vaunted new transparency of the IOTA Foundation does without target data, which rather fuels than appeases the resentment about ever new delays in the development work also on other construction sites like IOTA 2.0.
---
Best place to buy Bitcoin and IOTA: