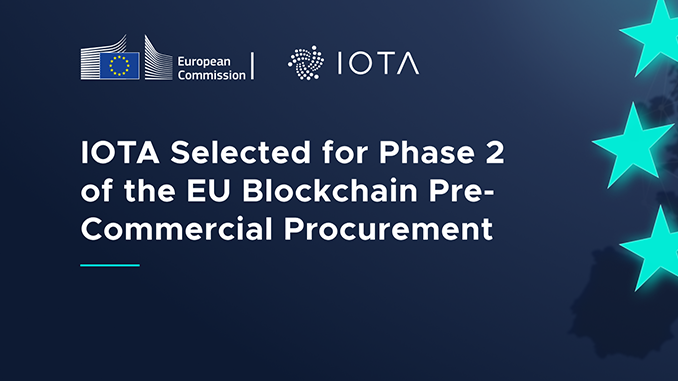 The IOTA Foundation has named use cases and technological objectives for its participation in the EU blockchain project EBSI. EBSI aims to develop blockchain solutions for Europe that can be used in a variety of ways.
Shortly before Christmas, the IOTA Foundation announced that it would be one of the five selected partners in the EU project EBSI in Phase 2A. EBSI stands for European Blockchain Services Infrastructure. The goal of EBSI is to present deployable blockchain solutions for EU states by summer 2023, which can also be used to perform everyday tasks of administration, industry and citizens across borders. IOTA, according to a recent blog post, hopes to continue to be involved in EBSI after mid-2022, when three of the current five partners are expected to be selected to complete EBSI in Phase 2B.
As a result, the IOTA Foundation's attention is now focused on demonstrating in trials how IOTA technology enriches EBSI. Practical examples cited include international copyright management and traceable chains in e-waste recycling. Here, individual transactions are likely to be securely documented on the blockchain, where authorized entities can then access the data. IOTA is bringing German Software AG on board as a subcontractor in its effort for EBSI.
Technological challenges at EBSI for IOTA.
From a technology perspective, the IOTA Foundation identifies five key issues facing EBSI in the coming months:
1. Scalability: currently, IOTA's Tanglenet can process up to 1,000 transactions per second (TPS). Predictably, EBSI, with its diverse use cases, will demand significantly more capacity. IOAT wants to accomplish this in perspective by sharding and adding more networks on top of the actual Tanglenet.
2. Consensus mechanism: In order to validate actions in EBSI blockchains, IOTA proposes its own consensus mechanism. This is to be refined in a decentralized IOTA 2.0 using Mana as a payment method for fees. Also important: IOTA proposes to align EBSI networks and their consensus building with respective tasks.
3. Governance: in order to govern EBSI blockchains, EU directives need to be followed and different authorities need to be engaged. IOTA wants to make the respective governance models technologically implementable in a flexible manner.
4. Identity: Digital identities in harmony with privacy and data protection will be indispensable for EBSI. IOTA has already done preliminary work in this area with Identity, which is also being tested in projects other than EBSI.
5. Interoperability: Under this heading, the IOTA Foundation refers to the need to make EBSI interoperable with other blockchains and protocols. To this end, it wants to develop bridging solutions and integrate the widely used Ethereum Virtual Machine (EVM) for smart contracts.
Conclusion: EBSI a prestige project for IOTA
IOTA CEO Dominik Schiener is already rejoicing on Twitter that EBSI will mean mass adoption for IOTA in the face of more than 400 million EU citizens. However, the comments also include critical questions about how IOTA intends to accomplish the self-defined tasks without decentralization. The Tanglenet of the current IOTA 1.5 stipulates a central coordinator under the control of the foundation as the final decision-making authority. Such an architecture, however, does not fit in with EBSI, where the EU and member states want to rely on an independent and transparent structure. With a decentralized IOTA 2.0, this criterion is fulfilled for once – but whether IOTA 2.0 will really come soon is uncertain after setbacks. For the time being, EBSI can only refer to the DevNet for IOTA 2.0, which allows tests but is not released for practical use. As also noted in our annual review of IOTA: Decentralization as a core topic will accompany IOTA in 2022 and will also affect the chances of being involved in EBSI up to the final phase.
---
Best place to buy Bitcoin and IOTA: