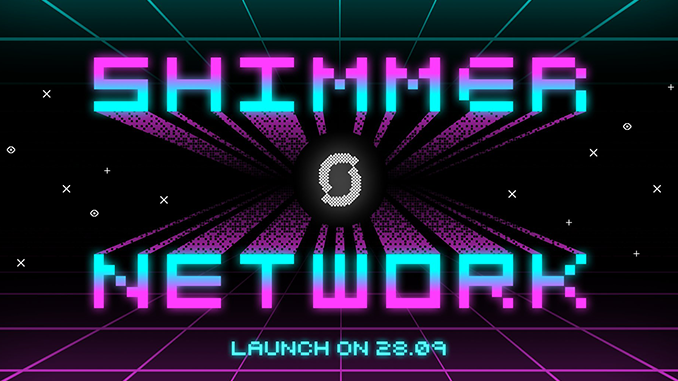 At IOTA, the promising side project Shimmer (SMR) is in the starting blocks. It is scheduled to go live on September 28. When SMR can be freely traded, however, is as open as other important details.
At the end of 2021, an expansion of the ecosystem was initiated at IOTA with the side project Shimmer (SMR). Now Shimmer is declaring itself ready for action, per Twitter. On September 28, the network is to be publicly and officially launched. People should mark the date in red on their calendars, he said, because it will "boom." IOTA boss Dominik Schiener is also promoting Shimmer via Twitter and asking rhetorically where people will be on September 28 when SMR enters the markets.
At the same time, information is missing so far on whether and if so which crypto exchanges plan to list Shimmer (SMR) on the launch date. There is no background on the launch plan on Twitter or on Shimmer's web presence. Shimmer's roadmap states that the launch of the network will follow successful testing of a beta version. One such beta test of Shimmer for IOTA is now live. Most recently, developers had raised hopes that smart contracts would also enter the IOTA ecosystem with the launch of Shimmer. This would make use cases for DeFi and NFTs, for example, conceivable.
The concept of Shimmer has settled in step by step over the months since staking for SMR began in December 2021. It is now intended to serve as a testnet for IOTA under practical conditions and is thus roughly comparable to Kusama (KSM) at Polkadot (DOT). Should Shimmer start as successfully as Kusama, a market capitalization in the mid-double-digit millions would be possible for SMR. So far, SMR could only be obtained by private investors through IOTA staking. The generation of additional tokens to secure seed funding for Shimmer had led to significant criticism and heated discussions in the IOTA community.
Conclusion: Shimmer launches at the end of September- liberation blow for IOTA?
The news about the launch date for Shimmer (SMR) has not visibly affected the price curve of IOTA. To perhaps trigger momentum there, there is a lack of detailed official information about what features SMR will launch with and which crypto exchanges will follow suit. Schiener and the IOTA team behind Shimmer should follow up soon to ensure a successful debut for SMR.
---