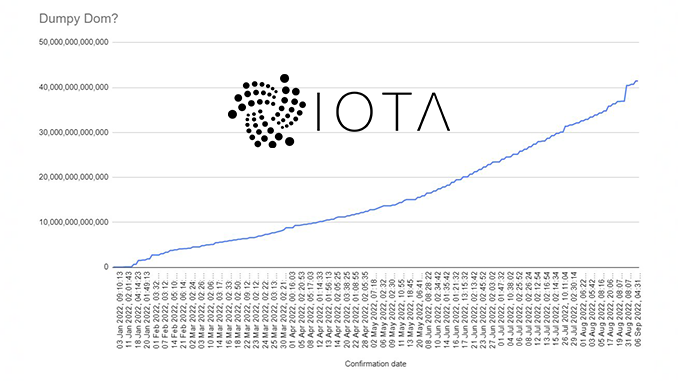 Last week, hints of insider trading at IOTA caused a stir. Foundation head Dominik Schiener promised clarification – but his information remains vague and his conclusion vulnerable.
Actually, the IOTA Foundation would like public attention to be currently focused on the progress of the side project Shimmer (SMR). But IOTA has also been accompanied by biting criticism for years, for example because the founders fell out, the decentralization (coordicide) of the Tanglenet is not progressing, and many other details seem at least strange when viewed from the outside. Last week, allegations that insider trading on a grand scale was deliberately carried out with sensitive information from the IOTA Foundation startled the public. Dominik Schiener, head of the foundation, categorically rejected suggestions that he himself could be involved in the sales of IOTA. But he promised to look into the matter, because conspicuous features in the sales in question cannot be dismissed out of hand.
IOTA critic "Buffy, the fudster" had set the ball rolling and followed up further. On Twitter, she now sums up that Schiener's answers only raise more questions. Schiener continues to believe that the wallet in question is not attributable to any employee at the IOTA Foundation. But he also says that everyone at IOTA Foundation is currently busy with Shimmer, leaving no time for further research. In addition, Schiener doesn't even want to know more specifically how the foundation sells its own IOTA or what the IOTA Development Fund (EDF) does with its holdings. The screenshots of corresponding chats with Schiener provided by "Buffy, the fudster" show an IOTA chief who either talks around the issue or is clueless when it comes to important financial questions.
But the story continues, with Schiener pointing out that insider trading is prohibited by the IOTA Foundation's bylaws. But he does not provide information on how that is checked and what the consequences are for violating it. Schiener also rejects demands from the IOTA community that at least the management of the foundation should disclose its shares and its purchases and sales, as is usual for stock corporations. Schiener even insists that his personal safety would be at risk if he disclosed his personal IOTA accounts.
Schiener is also stonewalling in other areas: three years ago, the foundation promised to present a transparency report – but it never came. Reminded of this, Schiener now says that they simply did not know what such a report could look like. Yet transparency reports, whether for stablecoins or for foundations behind large altcoins, are now the norm for the crypto industry. The astonishment not only of "Buffy, the fudster" about all the knowledge gaps of Schiener is well understandable.
Conclusion: Schiener, IOTA and Shimmer – Transparency Looks Different
Just a few weeks ago, Schiener was criticized for possibly being involved in cronyism at Shimmer that disadvantaged ordinary investors by changing token distribution. This matter irritated even loyal IOTA supporters – but Schiener remained ironically silent. In the new furor over possible insider trading, Schiener is talking, but feels like he's missing the point. As head of the foundation, it should be important to him that false accusations are cleared up and that IOTA gets rid of the reputation that he personally and other executives tolerate mousing or worse.
---