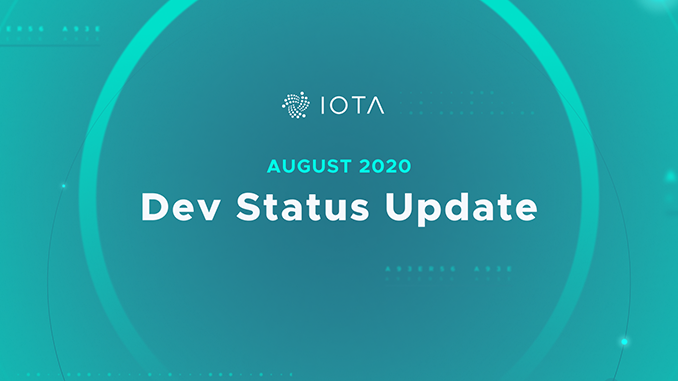 IOTA 1.5 is becoming reality step by step: With the launch of Phase 1 of Chrysalis, Mainnet will receive a major upgrade today, Wednesday, and according to test experiences, it will be significantly more powerful. Further important steps on the way to IOTA 2.0 will follow in the coming months.
When IOTA goes live with phase 1 of Chrysalis in Mainnet today, Wednesday at 10.00 a.m. German time, the champagne corks should pop. Because with chrysalis the Tanglenet will increase significantly in speed and performance, writes the IOTA Foundation in a blog post. 1,000 transactions per second (TPS) and a confirmation time of normally no more than 10 seconds should now be a reality with IOTA 1.5 – as chrysalis is also called – thus confirming the results from the Testnet. Important: If you are running a node at IOTA, it is now mandatory to change the software to Hornet, because the previous solution IRI is no longer supported.
Phase 2 of Chrysalis will complete IOTA 1.5 in autumn
With the current technological upgrade at IOTA, mainly stability and scalability of the MainNet are noticeably improved. The launch of phase 2 of Chrysalis has been announced for the end of October, which would complete IOTA 1.5. This phase will bring new software for wallets and reusable IOTA addresses. So this phase is also about usability in IOTA. First tests have already started and will be deepened in the Testnet shortly.
IOTA 2.0 – the preparations are running
Chrysalis is considered a crucial intermediate step in order to implement IOTA 2.0 aka Coordicide. Then IOTA wants to eliminate the central coordinator and organise its network in a truly decentralised way. At the same time, IOTA should also be able to implement complex smart contracts. IOTA is now announcing a proof of concept for this innovation for September. IOTA 2.0 can already be experienced in a test net called Pollen and is to be checked for errors and user-friendliness with a second test net called Nectar. For Nectar, the somewhat woolly schedule of "in a few months" now applies. The aim is to have Coordicide and thus IOTA 2.0 ready for release after the first quarter of 2021.
Conclusion: With IOTA, deeds finally follow announcements
Investors were recently able to follow an upward trend in the IOTA price curve, but this has now stalled again. Apparently, experts are waiting to see whether everything is really running smoothly at Chrysalis Phase 1. If the IOTA Foundation can keep to its ambitious schedule, this should have a positive impact on the price of its own crypto currency. But one thing is also known in the crypto scene: with such large upgrades as those currently pending at IOTA, schedules are often postponed. This can already be seen in the renewed roadmap of IOTA. Nevertheless, it is a great step forward that after announcements lasting years in some cases, a start has actually been made to make IOTA technologically future-proof.
---
Best place to buy Bitcoin and IOTA: