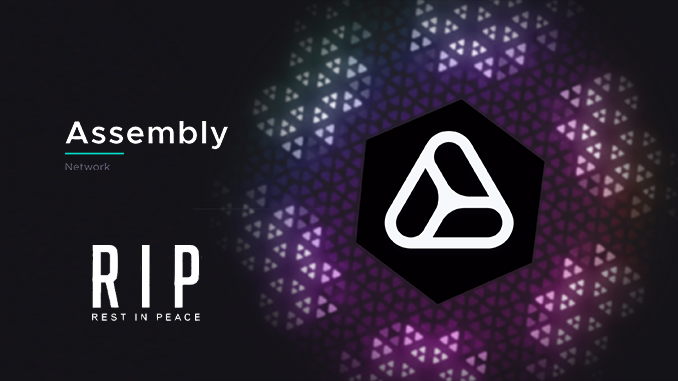 At IOTA, there are indications that the highly touted side project Assembly (ASMB) is on the brink of extinction. At least this is how chats with IOTA boss Dominik Schiener can be interpreted.
In December 2021, the IOTA Foundation and its chairman Dominik Schiener had still publicly advocated Assembly (ASMB). This project, built on IOTA technology, was to use $100 million in external venture capital to attract developers to Assembly who would create applications for promising lines of business such as DeFi and NFTs. The IOTA community was invited to stak ASMB in order to promote Assembly and have an initial user base by the launch, which was originally planned for 2022. But now leaks: The launch of Assembly is by no means assured. We became aware of this because Twitter user Durerus predicted the end of Assembly in a series of tweets, referring to a discussion on Telegram with Dominik Schiener. Anyone can read the discussion in the Telegram chat.
In the Telegram chat in question, things got a bit heated. Schiener and a participant named Rotorstar argued for hours about which information should be made public and which should not. Quasi incidentally, it leaked out that the important smart contracts for the IOTA ecosystem will no longer celebrate their premiere with freely traded tokens at Assembly, but at IOTA itself. This would render invalid Schiener's announcement from March that Assembly and ASMB should become the first port of call for commercial IOTA projects. In the event of a new scenario, as is now apparent, Assembly would then basically become pointless and thus also worthless.
Investors also concluded from the statements on Telegram that the promised venture capital for Assembly was not transferred at all. Otherwise, the project could not be stopped so easily. Ultimately, the financial commitments for Assembly were made at a time when the crypto market still looked very different. In the current market environment, it is not expected that money can be earned with an Assembly investment in the short term. It should therefore also be in the interest of potential investors that they no longer have to make the promised Assembly payments. However, it remains open how the development of the smart contracts is to be financed now if the money is not collected from investors.
No denials or transparent explanations of the current developments are known from the IOTA Foundation or Assembly itself so far. Their position so far has been that Assembly will launch in late 2022 after the second side project Shimmer (SMR) has a mainnet, but this is still pending. Meanwhile, among IOTA investors, the question is already circulating what will happen to already staked ASMB. One approach could be to replace these ASMB with IOTA as a form of compensation. However, this would mean that the IOTA holdings would have to be increased, which would dilute investors. It is hard to imagine that the IOTA Foundation will provide the IOTA for this itself.
Conclusion: IOTA is being damaged again by unfulfilled promises
An assembly with smart contracts and a view to free markets would only really make sense if IOTA switches to a completely decentralized network through the Coordicide, which has been announced for years. But the IOTA Foundation and Dominik Schiener rarely hear about the Coordicde. In this respect, the emergency brake at Assembly would be logically understandable and would also indirectly fit the massive savings at the IOTA Foundation made public two weeks ago.
But it also reveals once again a fundamental giant problem at IOTA: The leadership with Dominik Schiener as mouthpiece gets bogged down again and again in plans that are later not implemented at all or only inadequately. In the process, the goals that should actually enjoy priority, such as Coordicde or a mobile wallet for IOTA, fall by the wayside. If Telegram is already warning that discussions in the chat could lead to reporting here at Block-Builder.de, principles such as transparency and critical faculties are endangered.
Anyone who is continuously and neutrally involved with IOTA, as we are, once again gets the impression: In its current setup, the IOTA Foundation is responsible for a performance that spreads a sense of optimism with smoke bombs, but then regularly fails due to the real challenges. This fate now also seems to be in store for Assembly (ASMB).
---