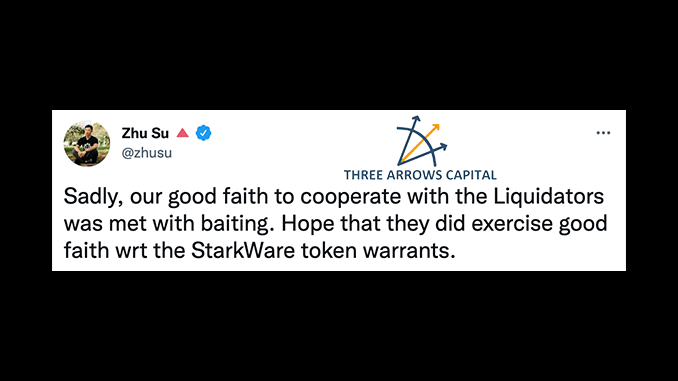 Crypto hedge fund Three Arrows Capital (3AC) is to be wound up by court-appointed liquidators after defaulting on payments. Zhu Su, co-founder of 3AC, breaks his silence and attacks the liquidators.
In mid-June, First Insider reported that crypto hedge fund Three Arrows Capital (3AC) was in financial distress and unable to service loans. Co-founder and mouthpiece of 3AC, Zhu Su, responded promptly on June 15, appeasing via Twitter. He said they were in talks with "relevant parties" and working on solutions. But then Zhu Su fell silent for four weeks, and media inquiries also went nowhere. Around 10 billion US dollars of investments in the crypto market are said to have been managed by Three Arrows Capital as late as March 2022, partly on the basis of loans. In the meantime, it is clear: In the British Virgin Islands, the liquidation of 3AC was ordered by the courts, in the U.S. the company is seeking insolvency in self-administration.
Surprisingly, Zhu Su has now also broken his silence and reported back via Twitter. There is no sign of apologies or remorse – Zhu Su is going on the offensive. The good will that 3AC had shown in cooperating with the liquidators had been abused, says Zhu Su. To support his thesis, he posts two screenshots of e-mails from lawyers. It had been brought to the attention that the other side immediately used confidential information from exploratory talks for applications to a U.S. court. In addition, Zhu Su makes reference to the circumstances surrounding the bankruptcy, which are said to extend to threats of violence against the leadership of 3AC and their families. Further, his lawyers complain that the bankruptcy trustee failed to exercise a right of first refusal on tokens from StarkWare, a crypto project specializing in technological solutions for DeFi and NFTs.
So a mudslinging is emerging in the process of securing funds at Three Arrows Capital to at least partially service claims from customers and lenders. However, the US broadcaster CNBC, for example, is vociferously doubtful as to whether anything at all can still be recovered from 3AC. It lists in detail how the problems at 3AC began with the crash of Terra (LUNA) and the linked stablecoin UST in May. At least $200 million is said to have been lost there by Three Arrows Capital, other sources even speak of $560 million. In addition, there were losses in the value of other investments when the price curves of Bitcoin and Co. turned significantly negative.
A chart from CNBC shows that Three Arrows Capital had close business relationships with a good half dozen prominent crypto companies and also received loans. Blockchain.com reportedly lent $270 million to 3AC, Voyager Digital a whopping $670 million, and other aggrieved parties reportedly include BlockFi, BitMEX, Deribit and FTX – all prominent names in the crypto industry. So, Three Arrows Capital's bankruptcy will leave its mark on the industry.
Conclusion: Three Arrows Capital as a memorial for gullible investors.
In good times, Three Arrows Capital was considered a flagship company and fund that could be trusted when it came to crypto. What remains is a shambles and a feeling of not having pushed for transparency and risk management. Zhu Su's new statements leave little hope for a scenario where 3AC wants to actively participate in honestly addressing the situation. Rather, it is feared that Zhu Su and others at 3AC are trying to avoid responsibility.
---