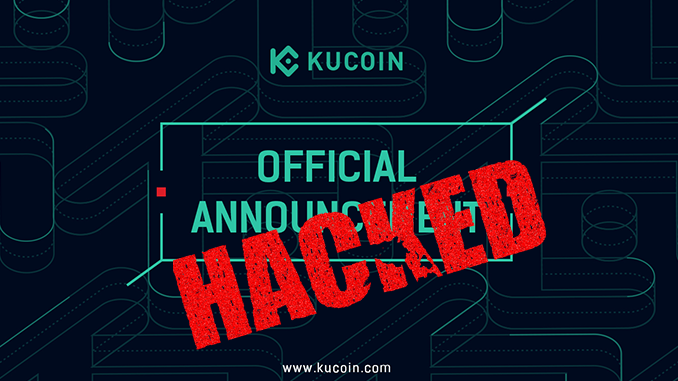 The crypto exchange KuCoin has fallen victim to an attack by cyber criminals. According to previous findings, approximately 200 million US dollars in Bitcoin and Co. were stolen. KuCoin promises full compensation to affected customers.
This time KuCoin has been caught by hackers searching for weak points of crypto exchanges. On Saturday morning KuCoin had to admit that suspicious withdrawals in various crypto currencies had taken place from hot wallets on the platform. Meanwhile more details are known and it turns apparently converted around scarcely 200 million US Dollar, which hackers carried off. Meanwhile, KuCoin CEO Johnny Lyu has apologized to customers for the security gap via video. Lyu promises that insurance policies would cover the damage.
Hack into KuCoin – what happened?
According to KuCoin, the internal security system noticed unusual transactions from a hot wallet early Saturday. According to this it took half an hour until the server of the hot wallet was disconnected from the internet. It is currently assumed that the attackers have gained access to KuCoin private keys. According to previous findings, they were able to steal Ethereum (ETH) and ERC-20 tokens for about 153 million US dollars, as well as Bitcoin (BTC) for almost 11 million S dollars, Tether (USDT) for 14 million US dollars and other crypto currencies, including Ripple (XRO) and various tokens based on TRON (TRX). KuCoin itself has not yet quantified the total damage, but does not deny representations that speak of almost 200 million US dollars.
CEO Johnny Lyu made it clear that KuCoin has insured its hot wallets and therefore compensation for victims can be expected. At the same time, a reward of 100,000 US dollars was offered for tips on how to solve the attack. Furthermore KuCoin is working together with other large crypto exchanges and market participants to track the flow of money and make it difficult for the perpetrators to silver their loot. A part of affected smaller ERC-20 tokens from the DeFi division are said to have been rescued by early SWAPS, also Tether has frozen USDT on a large scale. KuCoin informs about the developments via Twitter and news on this website. Currently deposits and withdrawals at KuCoin are suspended, but the platform wants to make them possible again as soon as possible.
Conclusion: KuCoin's reputation damaged
The overall crypto market was not impressed by the hack at KuCoin and remained in the black over the weekend. KuCoin is registered in the Seychelles and, according to its own information, has more than five million customers worldwide. KuCoin's slogan is "The People's Exchange" – and people may now have doubts about whether KuCoin handles their capital carefully. Even if the damage can be covered, KuCoin must be prepared for loss of confidence. We would like to remind you for given reasons: The safest way to store your Bitcoin and Altcoins is on a Hardware Wallet, where they are stored offline.
---
Open a Binance Account here and save 10% on trading fees. You can find a Binance tutorial here.