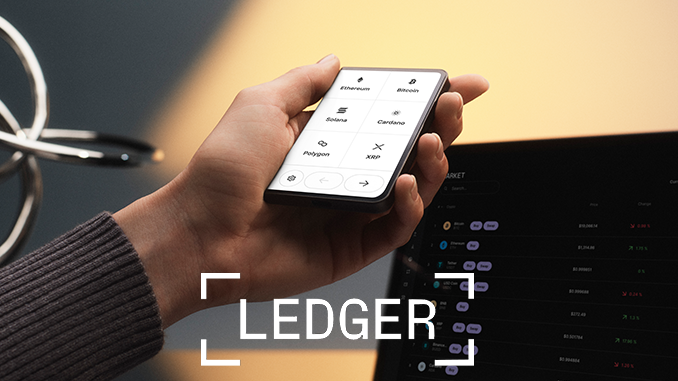 With more than 6 million hardware wallets sold, Ledger is the market leader in the segment. Now, the Ledger Stax, the new high-end model, has been introduced, which comes up with an e-ink display.
We have been making the urgent recommendation to use a hardware wallet to store bitcoin and other assets for years. The FTX crash recently confirmed this approach in a brutal way, and manufacturers of hardware wallets report record sales. Now, market leader Ledger introduces the Stax, a new hardware wallet that stands out with a previously unseen feature. This is because the Ledger Stax brings with it an e-ink display instead of the very small OLED-diplays installed in the Ledger Nano S and Nano X.
An official blog post on the Ledger Stax highlights that the e-ink screen allows NFTs to be displayed and transactions to be overviewed at a glance. In developing the hardware wallet Stax, Tony Fadell was hired as the designer. Fadell is known as the inventor of Apple's iPod and has given the Ledger Stax a sleek credit card-sized look.
In terms of technical specifications, the Ledger Stax is largely congruent with the other models Nano S Plus and Nano X from the French manufacturer. A special chip ensures security, almost all common cryptocurrencies can be conveniently organized via Ledger Live, connections to the PC or smartphone are established via USB-C or Bluetooth. In order for the display to work in continuous mode, a wirelessly rechargeable battery is built into the Ledger Stax Hardware Wallet.
Ledger's new flagship Stax is priced at 279 Euros, pre-orders are now being accepted and delivery is scheduled to start in March. Those who do not want to or cannot wait that long can choose between the entry-level Ledger Nano S Plus for 79 euros or the previous top model Nano X for 149 euros, as before.
Conclusion: New Ledger Stax hardware wallet with an exciting concept
If you are basically just looking for a secure hardware wallet solution, you are still well equipped with the Ledger Nano X or Nano S Plus. The substantial surcharge for the Ledger Stax is especially worth it if you are interested in NFTs or simply love timeless design. It's not for nothing that Leder advertises the Stax Hardware Wallet with the claim of having created an elegant product in iPod tradition for mass adoption. It should be remembered that you should always order hardware wallets directly from the manufacturer, as tampered products have appeared several times on other sales channels.
---