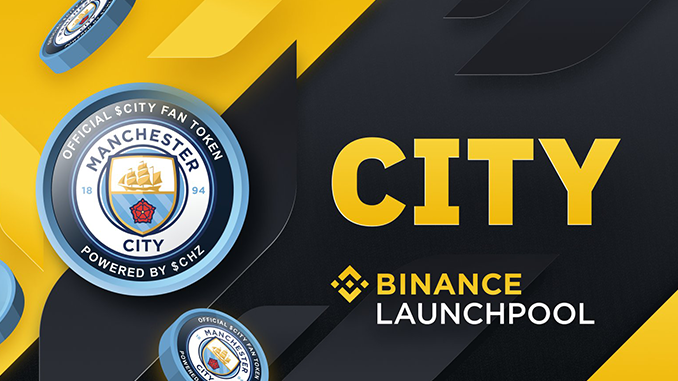 Binance supports Manchester City's Fan Token (CITY) in two ways: first, CITY is currently distributed via Binance Launchpool and second, CITY has also been listed.
With the launch of FC Porto's (PORTO) and Lazio Roma's (LAZIO) fan tokens via Binance Launchpad, the world's leading crypto exchange has made its first significant commitment to the fan token space in recent weeks. Now, Binance is making its case for the Manchester City Fan Token (CITY), and in this case, it's taking a slightly different approach. Since yesterday, Thursday (November 11), CITY is already listed on Binance and in parallel, a so-called farming for the Manchester City Fan Token is running via Binance Launchpool. In this promotion there is CITY for free for all participants and we explain how it works.
According to the announcement of Binance, the farming of CITY runs until December 10. Distributed are 291,036 Manchester City fan tokens and thus 1.45 percent of all CITY. Three pools have been formed for the Binance launch pool, into which you can contribute Binance Coin (BNB), Chiliz (CHZ) and/or Binance USD (BUSD). On the one hand, your coins will be staked there and thus bring interest. On the other hand, there are Manchester City Fan Tokens on top, which are distributed daily in proportion to the total coins contributed. In detail:
For Binance Coin, 70 percent of the CITY to be distributed is reserved and thus 6,791 are available daily. For the staking of BNB, Binance expects a projected annual interest rate of 2.06 percent here.
For Chiliz, 20 percent of Manchester City fan tokens are allocated for Binance Launchpool. This allows 1,940 CITY to be distributed daily, and for the staked CHZ, Binance quotes a theoretical annual interest rate of 5.84 percent.
For the Binance USD stablecoin, the launch pool has a projected annual interest rate of 2.68 percent, and on top of that, 970 CITY are farmed daily. That's 10 percent of Manchester City fan tokens in this promotion at the end.
There is basically no risk with Binance Launchpool, there your contributed crypto increases by staking and moreover there are innovative, young coins as a further reward. By the way, on the overview page of Binance Launchpool you can currently also see a second farming, where Mines of Dalarnia (DAR), the native token of a blockchain game, will be distributed for BNB and/or BUSD until the end of November.
Bottom Line: Binance Launchpool Promotes CITY.
Manchester City Fan Token is in concept a typical representative of its division. Those who hold CITY can thereby participate in voting among fans and are invited to take part in online activities related to the famous soccer club. Manchester City Fan Token is based on the technology of Chiliz and that is why CHZ is also represented in the launch pool. The price curve of Manchester City Fan Token temporarily spiked upwards due to the news of Binance Launchpool and has currently settled at around 15 US dollars at a higher level than before the listing on Binance. Fan tokens are becoming more and more common in professional sports and their potential with additional fields of application up to payment seems to be far from being exhausted. Therefore, Binance's recent efforts to establish itself in the fan token space are also a strategic decision.
Since there is always confusion about the difference between Binance Launchpad and Launchpool, we refer here to our overview on the topic. In general, these offers from Binance are attractive especially for those who hold BNB anyway. So don't miss out on Manchester City Fan Token at Binance Launchpool.
---
Open a Binance Account here and save 10% on fees for a lifetime.