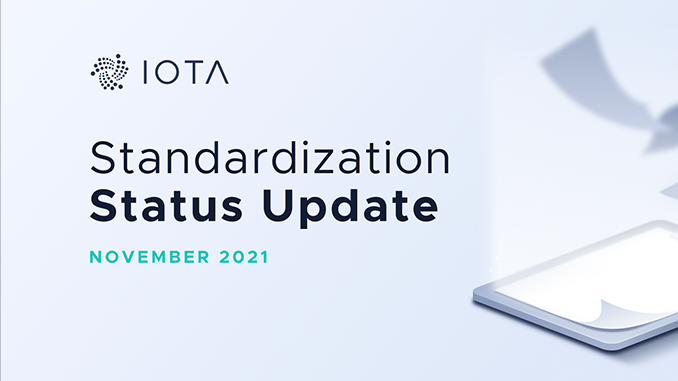 The IOTA Foundation has been involved in international organizations for years in order to be recognized as an industry standard in various fields. But problems in the development of a decentralized IOTA 2.0 are hindering.
IOTA has fallen out of the top 50 most capitalized cryptocurrencies in recent days, overtaken by many younger projects. Four years ago, IOTA was part of the exclusive club of top ten cryptocurrencies. Much has been written – including by us – about why confidence in IOTA has suffered and momentum has been lost. In addition to mudslinging and public bickering between IOTA's founders, it has been and continues to be repeated unkept promises in technological advancements that IOTA has used to slow itself down. The IOTA Foundation's November progress report on efforts to incorporate IOTA technology into official industry standards provides a telling example of this assessment.

At the latest since the end of 2020, IOTA sensed a good chance to be certified itself and as part of industry standards via the international organization Object Management Group (OMG). In 2021, the IOTA Foundation began to publish progress reports on this topic at irregular intervals, here in January and here in April. Confidently, IOTA had set the end of 2021 as the target date by which its involvement with the OMG would officially pay off.
No certification as an industry standard in sight without IOTA 2.0
IOTA liaison Mike Bennett now lists a total of ten topics in which he is active at the OMG. Throughout, these are promising lines of business such as digital identity, smart contracts or digital currencies, which the OMG considers important enough to create standards. But here's the rub for IOTA: In the summer of 2021, fundamental setbacks had to be acknowledged in the development of a decentralized IOTA 2.0 (project name Coordicide). But submissions to the OMG are to be based on the IOTA 2.0 protocol, Bennett writes. That's logical, because a centralized approach wouldn't be feasible with the OMG and its business and research members.
Ahead of the OMG's December meeting, Bennet now seeks to reassure, stating vaguely that the "formally noted specifications" for IOTA 2.0 are in "good shape." Recent steps in the redevelopment of a consensus mechanism for IOTA 2.0 would mean that the protocol could perhaps soon be submitted to the OMG. In plain language, however, this also means that the IOTA Foundation does not have anything concrete in hand at the moment and will not have anything for at least months, with which its own technology could play a significant role in the OMG's advancing certification processes.
Conclusion: Much ado about little with IOTA and industry standards
Detractors sometimes call IOTA a "shit show" – we want to remain polite. IOTA posted a whole series of impressive-sounding progress reports on its work in the OMG in 2021, raising hopes for breakthroughs as an industry standard in the near future. What remained at the end of the year was nothing but the imposingly packaged hint that everything would come as predicted with IOTA 2.0. The situation is reminiscent of the fidgeting around with IOTA smart contracts, where the crucial question of decentralization, aka coordicide, is also often hidden in subordinate clauses. Investors should remain warned and get into the habit of reading between the lines when it comes to official announcements. There is no other way to understand why, despite all the great-sounding headlines and pilot projects, IOTA has only started a gradual loss of significance. This could only be stopped if IOTA not only daydreams about decentralization, but also delivers results that the market (and the OMG) can understand.
---
Best place to buy Bitcoin and IOTA: