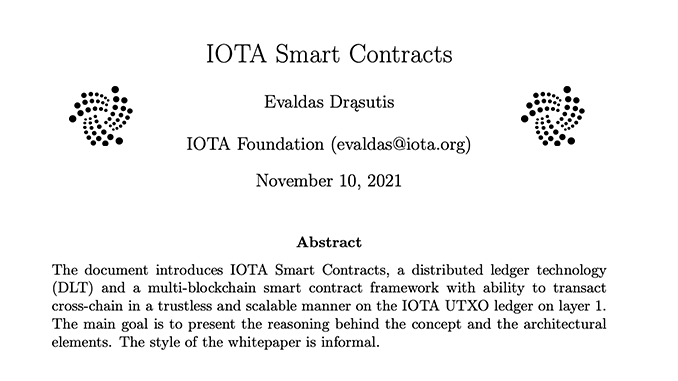 Smart contracts are expected to expand the IOTA ecosystem by creating new use cases. Now there is a whitepaper on smart contracts – under a future IOTA 2.0.
For the IOTA Foundation, smart contracts have become a major topic in 2021. That's because they've had to watch many altcoins – led by Ethereum (ETH) – open up new use cases through smart contracts, especially in the high-revenue DeFi and NFTs sectors. Accordingly, IOTA optimistically announced the unlocking of smart contracts in a beta version on Testnet in late October. A white paper by the IOTA Foundation on Smart Contracts now describes, as an encore so to speak, where the journey is to go. But the catch lurks in the introduction: The whitepaper documents the progress and prospects for IOTA smart contracts based on a decentralized IOTA 2.0. However, this project, called Coordicide at IOTA, is only making slow progress.
Thus, when studying the whitepaper, the ideas for the future remain exciting, but their decentralized feasibility is questionable. Through tokenization, IOTA wants to open its network to foreign coins and self-defined tokens, which used to be called "colored coins" at IOTA. The IOTA principle of no fees is intended to create incentives for crypto projects to dock onto Tanglenet. In general, closed networks based on IOTA technology remain possible, which could be an option for companies and organizations that may forego decentralization. High scalability should make IOTA viable for the future. The white paper provides the theoretical underpinnings for the scenarios that external experts such as Linus Naumann also invoke.
The IOTA findings are summarized for a good 40 pages – and repeatedly come up against the challenge of decentralization. ERC-20 tokens from the Ethereum ecosystem, for example, would encounter a flexible and inexpensive environment in IOTA with the help of smart contracts, but they would only exist in a decentralized manner in the DevNet.
Conclusion: A lot of future music for IOTA
In the discussion on Twitter about the IOTA smart contracts whitepaper, positive voices predominate. There are only isolated mockeries about how investors may be lulled by the impressive wording of the document. 18 months until Coordicide, someone thinks they can read out – which means mid-2023 and thus also corresponds to other forecasts.
In IOTA's fight to remain at least in the TOP 50 of the most capitalized cryptocurrencies, the IOTA Foundation is doing its best to beat the advertising drum. The success here in absolute terms, however, remains modest, with around 1.30 US dollars, IOTA has been trading for months far away from the mark of 2 US dollars, which was reached when IOTA 1.5 aka Chrysalis was released in April. If history repeats itself, IOTA can probably only hope for a sustainable plus in the price curve again when a decentralized IOTA 2.0 aka Coordicide is completed.
---
Best place to buy Bitcoin and IOTA: