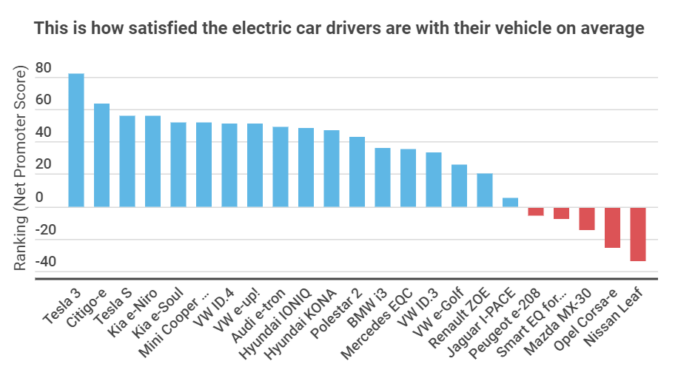 Tesla Model 3 drivers are on average the most satisfied owners of electric car. Yet Tesla is also setting records in other areas: Tesla's Model 3 now ranks first in terms of premium saloons sold worldwide, ahead of the BMW 3 Series. This is shown in a new infographic by Block-Builders.de.
In a ranking that tracks drivers' satisfaction with their electric vehicles, the Tesla Model 3 is the undisputed leader with 82 points, followed by the Citigo-e (63 points) and the Tesla S (56 points). This was revealed by data from the market research company Uscale.
It is relatively new for the US pioneer to be leading sales of premium saloons. BMW was still clearly ahead as recently as the third quarter of 2020. Tesla seems to be increasingly becoming a company of superlatives. Yet the infographic shows that the situation is normalising in other respects.
Tesla's Development
In contrast to rising sales figures, Google search volumes for Tesla are clearly on the decline. This also applies to the search term pair "Tesla shares". These search volumes have in fact reached their lowest level in the last 12 months.
While this might suggest that the hype is waning, the above data points to healthy and substantial growth. Electric cars are also growing in popularity in Germany. Yet German citizens remain relatively sceptical by international standards.
While about 35% of the population in Germany can envisage driving a fully electric car in the future, the figure is a staggering 86% in China. Yet this could shift in the years to come – especially with German premium manufacturers stepping on the gas with regard to embracing e-mobility.