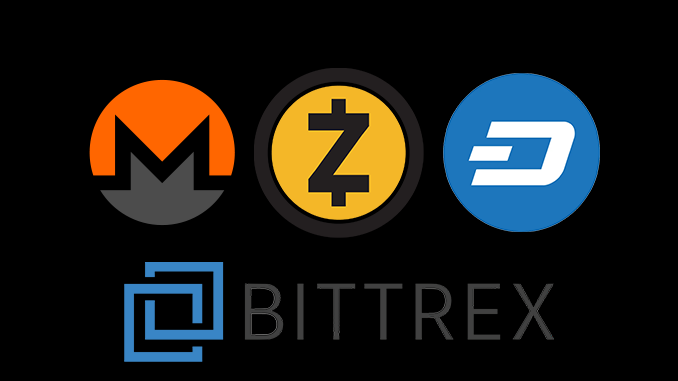 For Monero (XMR), DASH and Zcash (ZEC), 2021 starts with a negative surprise: Bittrex stops trading these cryptocurrencies known as Privacy Coins on January 15. Are regulators behind this?
While the majority of major cryptocurrencies were sent sharply higher in the first few days of 2021, things are looking less rosy for so-called privacy coins. In a brief service announcement, crypto exchange Bittrex announced it would delist all Monero (XMR), DASH and Zcash (ZEC) trading pairs as of Jan. 15. These altcoins are known for allowing anonymous ownership and trading due to their technological basis and are therefore called privacy coins. Bittrex did not comment on the reasons for the surprising move. But the price of all three affected cryptocurrencies plummeted by more than 10 percent at times. Monero, DASH and ZEC start 2021 under negative signs.
Should privacy coins be banned?
DASH hastened to clarify via Twitter that it is no more or less anonymous than Bitcoin (BTC). Monero points to crypto exchanges other than Bittrex that do not disrupt XMR trading. The foundation behind Zcash still swings. There is puzzlement in but online forums: Does U.S.-based Bittrex feel compelled by regulators to stop trading privacy coins?
At least the CEO of Kraken, a rival crypto exchange, doesn't believe XMR, ZEC and Dash will be banned. Jesse Powell, for Kraken, said he has not heard of any regulatory news for Privacy Coins. And indeed, Bittrex is alone in its decision so far. What is known, however, is that specifications for identifying customers and against money laundering with cryptocurrencies are to be tightened in the USA.
What makes observers at Bittrex particularly puzzled is the short-term nature of the ban. Normally, Bittrex aims to provide 30 days' notice when trading pairs are listed. With Monero, DASH and Zcash now, however, it is only two weeks.
Conclusion: Uncertainties for Privacy Coins
Hopefully, more information will become public in the coming days that will indicate the future fate of XMR, ZEC and DASH. After all, all three Privacy Coins are among the top 50 cryptocurrencies by market capitalization, and a trading ban in the U.S. would hit them hard. Ripple (XRP) is currently experiencing such a delisting with drastic price losses, but here the accusations of the US Securities and Exchange Commission (SEC) are at least known. With Monero, DASH and Zcash, on the other hand, investors are in the dark for the time being.
---
Open a Binance Account here and save 10% on fees for a lifetime.