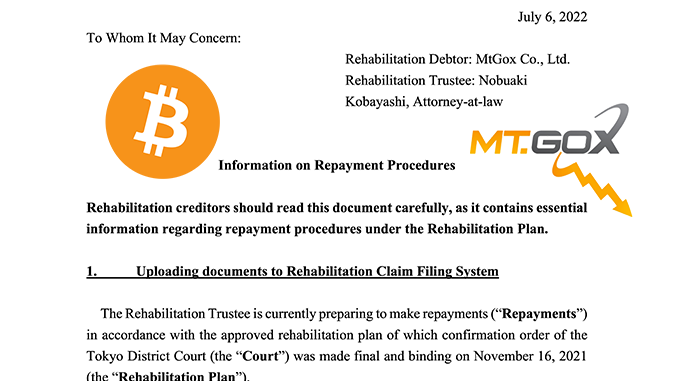 From the end of August, the victims of the 2014 Mt. Gox hack will be compensated. In the process, almost 140,00 Bitcoin are also expected to flow onto the market. Can we expect a plunge in the price of BTC then?
The story of the hack at the crypto exchange Mt. Gox has been examined from many angles and even found to be worthy of a movie. About 850,000 Bitcoin (BTC) went missing from Mt. Gox in 2014 and the legal processing took place in Japan. From there, the court-appointed trustee Nobuaki Kobayashi now reports that compensation payments will start at the end of August. Just under 140,000 Bitcoin from the bankruptcy estate are available, plus cash and Bitcoin Cash (BCH).
Crypto-rating service Weiss Crypto is already warning via Twitter: If such a large amount of Bitcoin hits the markets in a short period of time, it could have a negative impact on the price curve. The analysts go even further and also write about a possible "Black Swan Event" in which the markets capitulate. At the same time, Weiss Crypto points to the already nervous crypto markets, where there was a lot of distress selling after the crash of Terra (LUNA) and UST. They also think a scenario is possible where Bitcoin has already bottomed out with levels around $20,000 and can handle the expected BTC sales due to the Mt. Gox hack.
It is difficult to make a prediction: it is still not clear whether the compensation payments will take place in one fell swoop or will be staggered over time. In addition, victims have the option of specifying whether they want to receive cash or Bitcoin or BCH as a priority. And also on Reddit, where victims of the Mt. Gox hack consult each other, there is no unified line on whether one should sell allocated Bitcoin again right away or wait for higher prices of BTC.
Conclusion: nervousness about Bitcoin's price curve because of Mt. Gox
When large companies such as MicroStrategy and Tesla began shifting cash reserves into Bitcoin on a large scale starting in late summer 2020, it noticeably drove up the price of Bitcoin. Tesla, for example, bought almost 50,000 BTC and MicroStrategy now holds almost 130,000 Bitcoin. The number of Bitcoin to flow from Mt. Gox's compensation fund is also in these orders of magnitude. An influence then on the price curve of BTC thus seems quite possible, but not necessarily predetermined.
---