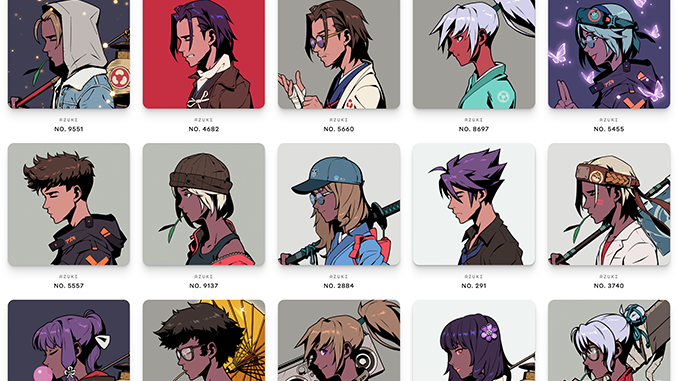 NFT Project Azuki has been one of the ten most successful commercially so far in 2022, but now founder Zagabond has admitted to being a fugitive in charge of three previous projects.
The NFT scene is experiencing a scandal revolving around the Azuki project. That's because founder Zagabond admitted in a blog post to running three other NFT projects into the ground in 2021 and then absconding. While Zagabond packages this under the title "The Journey of a Master Builder …" – but NFT collectors and the market are clearly reacting. Before the story broke, a single one of the 10,000 Azuki NFTs was still trading for around 20 Ethereum (ETH) on average, and found buyers at that level and higher on leading marketplace OpenSea. Now, however, Azuki NFTs are offered en masse for 10 Ethereum and less.
Yet the story behind Azuki sounded attractive before. A metaverse was to be created around the cool manga-style characters, merchandising was to be sold, partnerships with other successful NFT projects were to be created – in short: An Azuki NFT was offered as an entry ticket into a world in which monetary profits seemed possible in the medium term. With this concept, Azuki made a good debut in January 2021 and the prices developed steadily upwards. But now comes the slump and is due to the fact that mastermind Zagabond is no longer trusted.
CryptoPhunks, Tendies and Cryptozunks – the three failures of Azuki founder Zagabond.
In his blog post, Zagabond talks about three previous NFT projects in which he was involved in a leading and anonymous way. His activities started with CryptoPhunks and he stopped this project because of copyright lawsuits from the real CryptoPunks, which became a classic long ago. In the second attempt with Tendies as NFT Vision, it was the lack of demand in the start-up phase that led to the abandonment. And CryptoZunks as a third NFT attempt ultimately failed due to too high Ethereum transaction fees. Zagabond tries the adventurous thesis that he has learned from all this and would like to be forgiven for the inglorious hasty exits from the past.
Conclusion: Trust destroyed for Azuki and Zagabond – Lessons for NFT collectors
Probably you are not financially involved with Azuki yourself and so you can watch the price decline of these NFTs without pain. For those affected, on the other hand, sums of the equivalent of more than 30,000 US dollars are quickly involved, which are likely to be written off due to Zagabond's history that has become public. So far, there has been no comment on rumors that Zagabond only posted his blog entry because he wanted to get ahead of external reports. Via Twitter, Zagabond promises purification and asks for another chance.
But in reality, the Azuki project, which was one of the ten largest on the NFT scene by trading volume in 2022, may have hit a dead end. This example clearly demonstrates how even when collecting and trading hot NFTs, it remains essential to conduct individual background research and risk management.
---