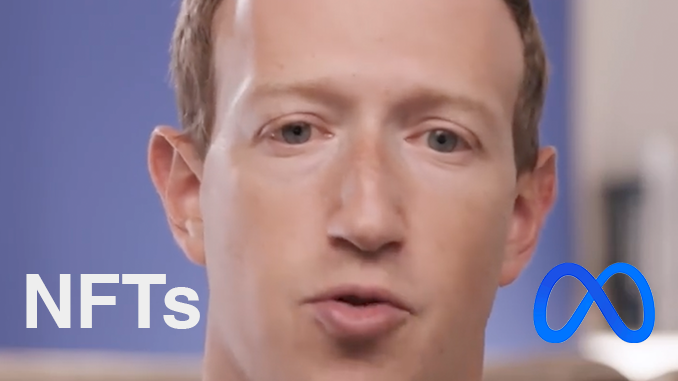 Instagram, the social network owned by Meta (Facebook), will begin enabling NFT integration in the U.S. this week. Meanwhile, plans for NFTs across the group are becoming clearer.
Nearly two months ago, Mark Zuckerberg, founder and CEO of Meta (formerly Facebook), first talked about NFTs making their way into Instagram soon. Now Zuckerberg said in a video interview, "This week, the NFTs feature will be rolled out on Instagram in the US. NFTs (Non-fungible Tokens) are often used as digital artwork and collections like Bored Ape Yacht Club have become valuable prestige symbols. On the short messaging service Twitter, NFTs have been possible as profile pictures since January.
Initially, Instagram, as the most image-rich service in the Meta Group, will rely on NFTs located in the Ethereum (ETH) ecosystem or in the Polygon (MATIC) sidechain. As far as is known, Instagram will create an interface to the widely used wallet Metamask for implementation. The service is to be free of charge on the part of Instagram. It is planned to integrate NFTs based on Solana (SOL) and FLOW in the future.
According to Zuckerberg, NFTs will also be enabled "soon" on Facebook. In March, Zuckerberg had hinted at being able to use NFTs across Meta's networks, such as using an NFT as a profile picture on Instagram and Facebook at the same time. He also talked about the possibility of creating your own NFTs on Instagram. However, it is still unknown when such features will be launched.
NFTs on Instagram – will this give the market new momentum?
Recently, news made the rounds that the market for NFTs is collapsing. In 2021, NFTs were estimated to generate $25 billion in revenue. A closer analysis shows that while individual sales of NFTs have dropped dramatically, trading volumes remain high. Instagram, with well over 1 billion active users, and Facebook, with nearly 3 billion accounts, could be instrumental in NFTs finally making the move from the crypto scene to mass adoption. In perspective, it remains exciting to see in which form Meta's metaverse will deal with NFTs.
Conclusion: Instagram dares the big practical test for NFTs
In Germany, Instagram users will apparently have to be patient before they can try out NFT features. For the time being, we can only look across the Atlantic to see how the NFT service is received by Instagram and, in the future, Facebook as well. Among other things, user-friendliness and indirectly arising Ethereum transaction fees could be sticking points. On the other hand, an option to attract audience with highlighted and exclusive NFTs on Instagram is emerging. Something is obviously happening in the NFT scene.
---