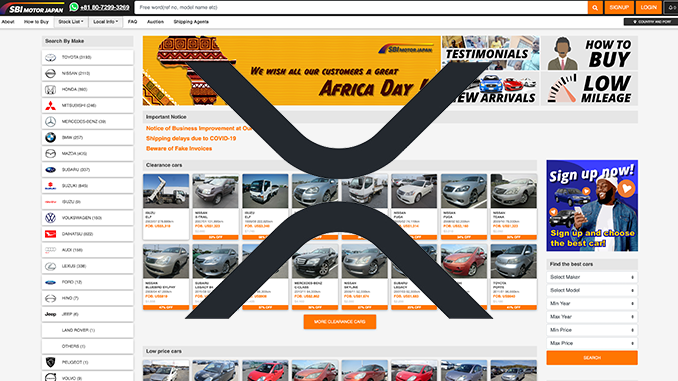 Ripple (XRP) can be used as a means of payment when trading used cars between Japan and Africa in the future. International representatives of SBI Group also add Bitcoin (BTC) to the list of accepted cryptocurrencies.
Ripple (XRP) is getting a concrete use case as an international payment method in used car trade between Japan and Africa. SBI Motor Japan made the announcement via press release. To make cross-border e-commerce a reality, SBI Africa and its in-house crypto exchange SBI VC Trade are also on board. This makes three subsidiaries of SBI Group responsible for the business model. According to its own information, the latter is the largest external shareholder in Ripple and, in addition to its core business of financial services, also has various other lines of business in its portfolio.
In addition to XRP as Ripple's cryptocurrency, Bitcoin (BTC) will also be accepted in the future for the used cars that are shipped from Japan to Africa. According to the website of SBI Motor Japan, a good ten African countries are served. There is talk of around 5,000 cars a year that SBI Motor Japan handles. The move towards XRP and Bitcoin is justified by leaps and bounds in the acceptance of cryptocurrencies in Africa and the fact that there are more than 1 billion people on the continent without a traditional bank account.
The SBI agencies emphasize paying great attention to compliance with laws against money laundering and terrorist financing. In the future, they want to integrate other cryptocurrencies into the payment corridor, in addition to Ripple's XRP and Bitcoin. According to SBI, this is the first time in Japan that e-commerce ventures have accepted cryptocurrencies as payment across borders. No further details were initially provided on fees or other details.
For Ripple, the news about XRP in cross-border practical use should be received positively. That's because in the U.S., Ripple is embroiled in a protracted legal battle with the Securities and Exchange Commission, where it argues that XRP, as a typical cryptocurrency, should be placed on an equal footing with Bitcoin and Ethereum (ETH) and thus exempt from regulation by the SEC. While XRP is otherwise touted by Ripple as a bridge currency in international transfers between banks and financial service providers, the current Japan – Africa example involves individuals and small traders.
Conclusion: Ripple grows internationally – US process still in limbo
Ripple CEO Brad Garlinghouse had recently reported a record year 2021 and a best-starting fiscal year 2022 for XRP. But in North America, XRP is virtually frozen and a decision on the legal status of the cryptocurrency in the U.S. is expected at best for the end of 2022. Thus, the commitment of the Japanese SBI Group to XRP – even if not surprising due to long-standing ties – is at least a signal that XRP is far from being written dead.
---