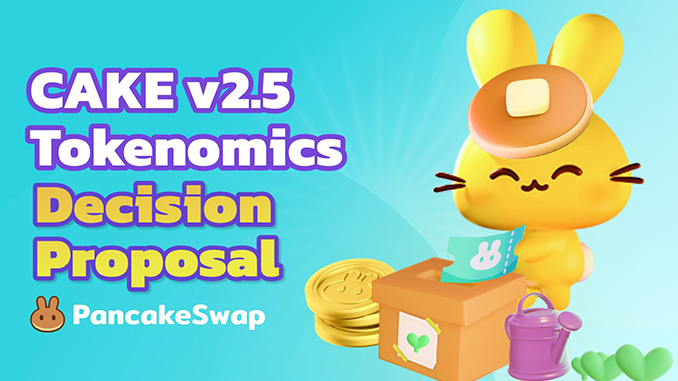 CAKE as a native token of DEX PancakeSwap has suffered a price drop of 24 percent this week. The background to this are plans to significantly reduce the staking bonuses for CAKE.
At PancakeSwap (CAKE), a referendum is currently being held to decide on a new regulation of staking. Until now, CAKE paid out 6.65 per block in staking, which means a good 22 percent annual interest for participants. But on the other hand, this regulation causes significant inflation of around 20 percent per year for PancakeSwap. Therefore, proposals have been made to reduce the staking bonus to 3 or 4 CAKE per block immediately and then further gradually to the final target of 0.35 CAKE per block. Voting will continue until noon today, and the interim results, which can be viewed here, indicate a majority that there will only be 3 CAKE per block for stakers.
In the medium and long term, it looks like PancakeSwap will be able to get inflation under control and reduce it to a maximum of 3 percent per year. But in the short term, investors seem to be losing their appetite for CAKE. PancakeSwap's price curve has slid 24 percent since the referendum began. In parallel, data from DeFiLlama shows that about one-third of CAKE deposited for staking so far has been withdrawn in the last few days, and their sell-offs probably led to the slump in the price curve.
Meanwhile, the decentralized crypto exchange (DEX) at the heart of PancakeSwap continues to do well. With daily turnover well over $100 billion and over $2 billion TVL, PancakeSwap remains the most important DEX in the Binance Coin (BNB) ecosystem and related BEP-20 tokens. Most recently, PancakeSwap was launched in version 3 and has since been connected to Ethereum (ETH) and Aptos (APT) blockchains as well.
Bottom line: CAKE aims to fight inflation, PancakeSwap experiences competition
Among DEXs, Uniswap (UNI) is the clear leader, long focused solely on the Ethereum (ETH) ecosystem. But in March, Uniswap also expanded into the BNB chain, where it is facing new competition from PancakeSwap. In order to hold its own in this competition, the new regulation of CAKE Staking is likely to be an important piece of the puzzle, even if the price curve suffers temporarily as a result.
---