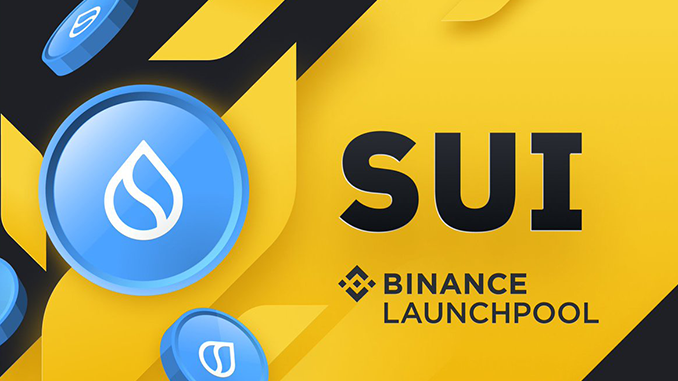 Today and tomorrow there is a promotion at Binance Launchpool that distributes SUI for free for staking BNB or TUSD. Then on Wednesday, SUI is scheduled to be listed on Binance. The new token is being compared to Aptos.
SUI is the name of a new cryptocurrency that is attracting a lot of attention even before its listing debut. With the help of ICOs, SUI has already been sold to investors on crypto exchanges OKX and Kucoin, and ByBit has an IEO running until Thursday. But customers of Binance, the world's largest crypto exchange, are also getting an exclusive deal for SUI. Today, Monday, and tomorrow, Tuesday, Binance Launchpool will give you SUI for free if you deposit Binance Coin (BNB) or TrueUSD (TUSD) there to stake.
In an announcement, Binance explains the details. Accordingly, 40 million SUI are available, of which 20 million are distributed daily. These SUI are in turn split into 80 percent for the staking pool with BNB and 20 percent flow into the pool for TUSD. To participate in the promotion, you must deposit your BNB and/or TUSD here at Binance Launchpool. SUI will then be paid out hourly and individually depending on the amount of tokens staked. In the ICOs, SUI was sold for $0.10, and there is no cost at Binance Launchpool.
It will be really exciting for SUI on Wednesday, when the mainnet is to go live and the stock market debut is imminent. Because in the crypto scene, SUI is already being traded as the next hot multifunctional altcoin that can compete with cryptocurrencies like Solana (SOL) or Avalanche (AVAX). Binance has presented an extensive analysis on SUI, where a comparison is drawn with Aptos (APT). Aptos and SUI seem to form a new generation of so-called "Ethereum killers", which score with fresh solutions for the important factors transaction fees and network capacity.
SUI, for example, sets transaction fees on a daily basis, preventing unpleasant fluctuations for users. In addition, SUI uses a module called the "dual-execution model," which allows transactions to be processed in parallel. With this, SUI expects up to 120,000 transactions per second (TPS) as network capacity, a peak value. Wait times for confirmed transactions are expected to be less than 2 seconds. Real-time transactions are in demand for applications in lines of business such as decentralized finance or blockchain gaming, and SUI theoretically already comes very close to this ideal.
Conclusion: SUI at Binance Launchpool – benefit from free promotion
Due to the cooperations with many large crypto exchanges, SUI is already on everyone's lips before the launch, Binance Launchpool heats up the hype even more. Since you have no costs with Binance Launchpool, you also take no risk when you secure SUI there now. With the stock market debut on Wednesday, it will become clear for SUI whether the enthusiasm in the run-up will also be reflected in free trading.
---
Open a Binance Account here and save 10% on fees for a lifetime.