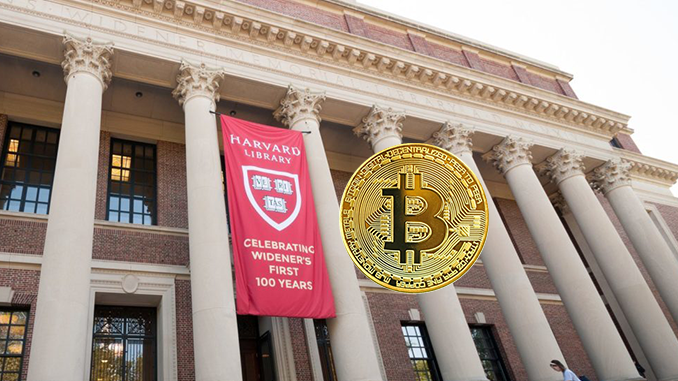 World-renowned US universities such as Harvard and Yale have started investing parts of their financial reserves in Bitcoin (BTC) by 2020 at the latest. This is reported by a US specialist portal citing anonymous sources and sees a trend.
In the U.S., the higher education landscape is financed to good parts by private capital, especially at prestigious top universities. Harvard, for example, is said to manage more than $40 billion in reserves and Yale more than $30 billion. For these huge sums, the universities maintain their own finance departments, which are always looking for ways to make the capital work for them. Since 2019 and increasingly in 2020, Bitcoin (BTC) has also been identified as a promising investment, reports the US specialist portal CoinDesk, citing sources familiar with the matter. The explicitly named universities Harvard, Yale, Michigan and Brown would not comment on the report. The crypto exchange Coinbase, where the Bitcoin purchases are said to have been transacted, also remained silent when asked.
Thus, the report remains short on an answer to the question of how many Bitcoin the world-famous universities are probably holding at the moment. The universities are likely to be sitting on quite a handsome profit sum in Bitcoin, one source vaguely believes. This is obvious given Bitcoin's record price, which began in the fall of 2020, if the investments were made beforehand. However, it is also important to note that universities can be classified as institutional investors that have long had reservations about Bitcoin. Considerable expertise can be assumed among top universities, and if they are now embracing Bitcoin as part of their investment strategy, this potentially rubs off on other institutions as well. One of the sources now said U.S. pension funds are also beginning to explore their investment opportunities in Bitcoin. A key point in such plans, he said, is that bitcoin can be purchased from U.S. crypto exchanges such as Coinbase in a regulated environment in compliance with the law.
Next sign of how bitcoin is reaching institutional investors
The 2020 Crypto Year in Review shows how Bitcoin's price began to gain immensely when PayPal and MicroStrategy committed to BTC. This marked Bitcoin's first major listed investors. This seems to be developing into a trend that others are following. Most recently, it was the world's largest asset manager, BlackRock, which is hinting at not wanting to miss out on Bitcoin. Forward-looking universities, which had already decided this earlier but did not have to make it public, fit well into the picture.
From this situation, the bullish outlook for Bitcoin expressed by many experts, with price forecasts of 100,000 US dollars still in 2021, is almost self-evident. If major U.S. capital shifts even one percent of its reserves into Bitcoin, the newly mined Bitcoin will be nowhere near enough to meet demand. But a bidding war driven by long-term strategies for Bitcoin's trending shrinking supply would automatically trigger next price jumps in BTC.
Conclusion: 2021 under positive signs for Bitcoin
Almost on a daily basis, news trickles in that major investors are discovering Bitcoin for themselves. Often, the main argument for Bitcoin as "digital gold" is inflation protection plus profit opportunities. Private investors are not immune to this either, as the crypto exchange eToro recently made clear with a warning of bottlenecks in the Bitcoin supply. There are many signs that positive outlooks for the price curve of BTC in 2021 are based on real developments and thus create a very own momentum for Bitcoin.
---
Best place to buy Bitcoin: