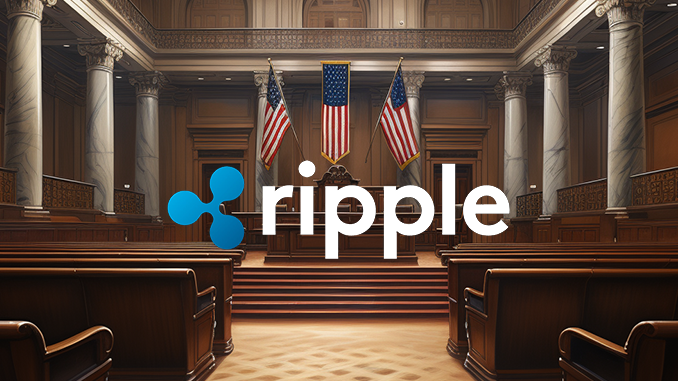 Ripple (XRP) is acquiring FinTech Fortress Trust to expand its portfolio of blockchain companies. But legally, the situation with the U.S. Securities and Exchange Commission (SEC) remains difficult, court documents show.
Ripple (XRP) plans to follow up its court victory in the case with the U.S. Securities and Exchange Commission (SEC) with a big community party in New York at the end of September. This was announced by Ripple CEO Brad Garlinghouse via X (formerly Twitter). He is referring to the ruling in mid-July, which acquits XRP of prosecution by the SEC for the time being and has given Ripple legroom.
At the event, Garlinghouse is then expected to raise his glass to the acquisition of Fortress Trust, a U.S. FinTech focused on blockchain technologies. In a press release over the weekend, Ripple highlights obtaining key financial business licenses from the state of Nevada through Fortress Trust. Back in May, Ripple paid $250 million for Swiss FinTech Metaco, again citing a rounding out of its portfolio as its motivation.
But so while Ripple is working hard to expand its core business with XRP as a bridge currency, the mighty SEC isn't even thinking of sitting idly by and watching the development. It has reiterated in its recent filing to the court in New York to seek an appeal over XRP. Ripple wants to prevent this. But the SEC reiterates the overarching nature of the legal battle over XRP, which will have implications for the regulatory handling of other cryptocurrencies. In fact, the dispute between the SEC and Ripple has long since become a precedent for the crypto industry, and the SEC can point to having been more successful in other courts than in the XRP case.
Conclusion: celebratory mood at Ripple – but the SEC sparks interference
A look at the XRP price curve shows that the good 60 percent plus from the day of the first court decision in July is already a thing of the past. The euphoria is getting cracks because the legal uncertainties for Ripple and XRP are not over. But CEO Garlinghouse's strategy is still to make acquisitions for Ripple, which strategically promise more expertise, customers and infrastructure. It is in this context of tension that Ripple's near future must be considered. Observers expect that the court cases with the SEC for Ripple and XRP will end in next verdicts in mid to late 2024 at the earliest.
---