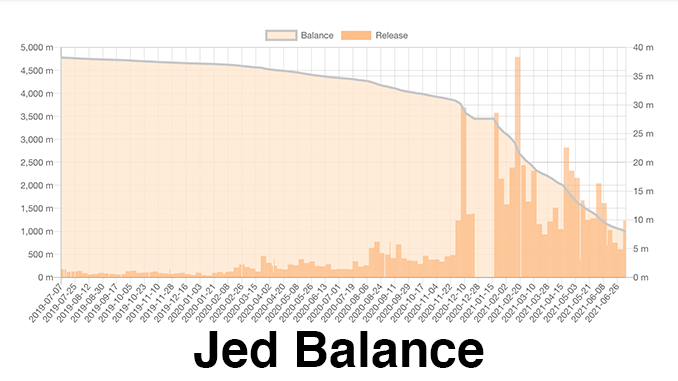 The systematic dumping of XRP by Ripple co-founder Jed McCaleb is often interpreted as a factor in the price trend. Now, McCaleb's XRP reserves appear to be nearly depleted.
Since the summer of 2013, Ripple (XRP) has been listed on crypto exchanges worldwide – and in the same year, co-founder Jed McCaleb said goodbye to the project. Since then, the discussions do not tear off whether the handling of McCaleb with his huge severance pay in XRP could not influence the price curve of Ripple. Because 9.5 billion XRP and thus about 12 percent of all originally generated Ripple had secured Jed McCaleb, when he left in the dispute. He has been putting these on the market largely continuously since then to increase his wealth. Now, data from "Jed Balance" shows the spook with Jed McCaleb's massive sales of XRP could come to an end this year.
Less than 1 billion XRP are still remaining on the accounts attributed to McCaleb. If he continues to sell them at his usual pace, the regular sales of XRP by Jed McCaleb would finally come to an end around the fall or winter of 2021. Ripple followers are celebrating this news on Reddit. The general sentiment there: With Jed McCaleb finally out of the XRP game, a free market-driven price trend for XRP can begin.
Experts know however also: The history over influence of the price curve of XRP by Jed McCaleb stands on shaky feet. Because he had finally assured never to sell more than 1.5 percent XRP daily than are traded worldwide. This clause was intended to exclude influences on the market for Ripple by Jed McCaleb. Direct effects by the actions of McCaleb in terms of XRP can not be read from the historical charts. On the other hand, basically on a daily basis, McCaleb is putting several million XRP on the market. This has already made him a billionaire.
Conclusion: Ripple hopes for the end of the Jed McCaleb story.
Ripple currently has an open flank not only on the subject of XRP sales by Jed McCaleb. The pending proceedings that the US Securities and Exchange Commission (SEC) has initiated over XRP probably weighs even more heavily. Here, however, optimists see the possibility of an out-of-court settlement along the lines of EOS. At the same time, all eyes are on the Flare / Spark project, which is supposed to bring the still enormous market capitalization of the equivalent of almost 30 billion US dollars in XRP into the DeFi division.
---
Best place to buy Bitcoin and XRP: