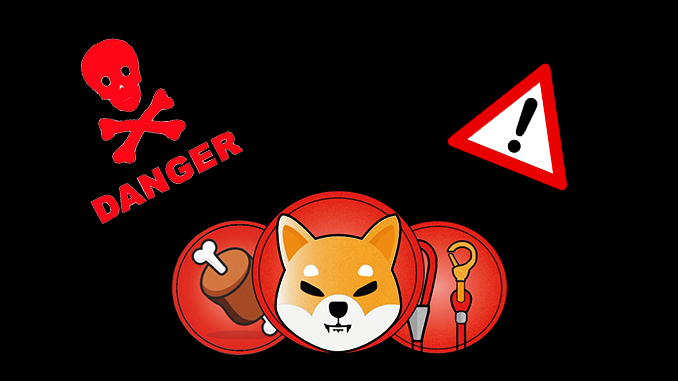 The DeFi platform ShibaSwap, which is to become the center of an ecosystem around Shiba Inu (SHIB), has been live for three days. But experts warn of major security problems with ShibaSwap.
The equivalent of about $1.5 billion has been invested by investors since the launch of ShibaSwap in the middle of the week on the new DeFi platform as liquidity deposited. This marks an impressive step by the anonymous team behind Shiba Inu (SHIB) to establish an ecosystem around the self-proclaimed Dogecoin killer and develop practical uses for Shiba Inu. Security experts, however, view ShibaSwap's success with horror. DeFi Safety, for example, writes on Twitter, "Trusting ShibaSwap with money is like putting it in a black hole.
ShibaSwap is up with a devastating 3% score. If you are looking for a prime example of what absolute negligence looks like in a protocol, look no further than this. Zero Transparency. You are putting your money in a black hole. https://t.co/dUzU0vvCHW @ChrisBlec @ShibArmy #DeFi pic.twitter.com/QG3ykYakdt

— DeFi Safety (@DefiSafety) July 7, 2021
In a detailed analysis, DeFi Safety gives ShibaSwap a score of just 3 percent out of a possible 100 percent for measures that can contribute to the security of a DeFi platform. By comparison, market leader Uniswap Version 3 is given a score of 94 percent by DeFi Security.
Developer: ShibaSwap is Scam
Joseph Schiarizzi, who as a developer has scrutinized the smart contracts at ShibaSwap, is even more explicit. In his analysis, Schiarizzi shows that the team behind Shiba Inu could very easily claim the deposits at ShibaSwap for themselves. Thus, capital invested with ShibaSwap would then suddenly be lost for actual owners. Therefore Schiarizzi considers ShibaSwap to be a scam. However, he shows the way how the critical security gap he discovered at ShibaSwap can be repaired. If this happens, he will withdraw his criticism.
At least on Shiba Inu's Twitter account, the team has not yet responded to the harsh criticism. There, they continue to be happy about the initial success of ShibaSwap and are generally in a good mood. With emphatically relaxed and humorous communication and side blows to Dogecoin (DOGE), Shiba Inu was able to generate a lot of attention in the spring and has reached a market capitalization of a good 3 billion US dollars.
Conclusion: ShibaSwap currently not recommendable
The technically justified objections to ShibaSwap are understandable, and the SHIB team must make transparent improvements in order to earn trust. The anonymity of the creators is not the problem at all. Other DeFi projects such as SushiSwap (SUSHI) were also launched anonymously. The critical point is that there has been no external audit of ShibaSwap to date, and the developers have secured access to deposits to which they should not be entitled. Anyone who still wants to invest with ShibaSwap must then also bear the high associated risk.
---
Open a Binance Account here and save 10% on fees for a lifetime.