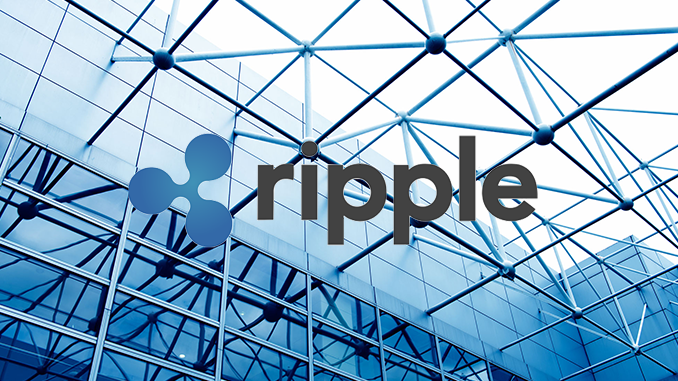 At Ripple, XRP's own account sales programs have long been the subject of criticism. Meanwhile Ripple reacts to the objections and reduces the sales significantly. In the 1st quarter of 2020, the volume of XRP for 1.75 million US dollars fell to a record low.
In its latest quarterly report, Ripple once again paints a rosy future for its network and its crypto currency XRP. Despite the slump in the crypto market on "Black Thursday" on March 12, 2020 in the wake of the Corona crisis, Ripple believes it is on track. The drastically limited sales program of XRP is emphasized, which even provoked critics to threaten a hard fork in September 2019. At the heart of the discussion is the fact that Ripple allocates 1 billion XRP per quarter from an escrow account to itself and is allowed to sell this XRP. Ripple actually wants to use the proceeds to finance expansion and technical development.
But at the same time, masses of XRP brought onto the market can also fuel inflation and thus weaken the share price. Ripple has understood this mechanism and already in the 2nd half of 2019 has begun to reduce XRP sales. Now, in the 1st quarter of 2020, the level of XRP sold by Ripple itself has reached the equivalent of only $1.75 million, the lowest level in Ripple's history. However, the price of XRP hardly reacted to the news and since it became known it has lost slightly in line with the overall market.
How Ripple views XRP at the moment
Originally, XRP was designed as a bridge currency for Ripple's core business, the organization of cross-border financial transactions. Ripple stresses that his network has withstood the onslaught of remittances on and around "Black Thursday", while Bitcoin (BTC) and Ethereum (ETH) have seen their remittance costs increase fivefold in some cases due to rare capacities. Ripple sees crypto currencies as a "safe haven" for investments in the uncertain times of the Corona crisis.
In absolute figures, the reduction in the sales program is indeed significant. In the 2nd quarter of 2019, the volume had reached a record high with XRP worth a good 251 million US dollars. In the 3rd quarter of 2019, after criticism became louder and louder, the level was already only 66 million US dollars, in the 4th quarter of 2019 it was 13 million US dollars and now just 1.75 million US dollars. These were generated by sales of XRP to institutional partners, primarily in Europe, Asia, Africa and the Middle East.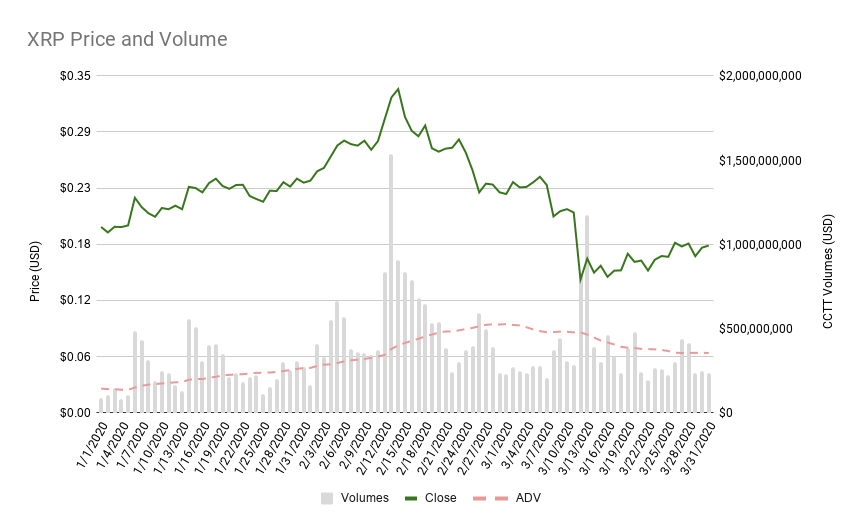 Ripple reports increasing sales of XRP to crypto exchanges. There, the average daily volumes grew by about 70 percent to 322.66 million US dollars compared to the 4th quarter of 2019. A chart clearly shows how price fluctuations in XRP correlate with daily turnover. To what extent the offer of ripple futures with leverage from BitMEX contributes to this is difficult to quantify BitMEX.
Ripple further writes that the turnover of XRP as a bridge currency has increased significantly. Compared to the 4th quarter, these sales have almost tripled. However, Ripple does not give absolute figures for this. It is known that only 10 percent of all Ripple partners also use XRP.
Conclusion: What Ripple does not address is also exciting
Ripple focuses almost exclusively on XRP in its quarterly report, which is in line with plans for the turn of the year. After a successful financing round, Ripple had announced that the 200 million US dollars collected would be used primarily to strengthen the acceptance of XRP. Conversely, the conclusion that Ripple currently has access to outside capital and it is so easy that the XRP sales program is almost discontinued. However, it should not be forgotten that parts of the sales programme have always meant that partners have stocked up on XRP to ensure liquidity for their cross-border activities. In this respect, the weak demand for XRP from institutional partners is not good news.
Observers also noted that Ripple's quarterly summary fails to address two important issues. First, CEO Brad Garlinghouse had talked about stock market plans in January 2020 – this idea was not included in the latest own report. And there is also no reference to Ripple's legal activities. On the risk side, these concern a class action lawsuit in the USA and on the offensive side the action against YouTube.
On closer inspection, Ripple and XRP do not seem to be as well balanced as the parent company suggests. Let's not forget: When XRP briefly shot up to USD 0.475 in the last 12 months in June 2019, the controversial entry into MoneyGram was behind it. Now, however, XRP is trading around USD 0.2 again, which is certainly not satisfactory for private investors.
---
Best Place to buy Ripple: