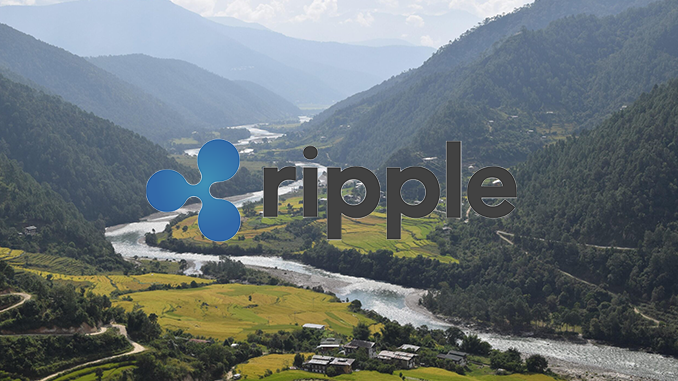 Bhutan wants to test a government-responsible digital currency (CBDC) and is relying on Ripple for technology. However, there are no plans to use XRP.
Ripple can enjoy high-profile recognition from Bhutan. The central bank of Bhutan wants to start a pilot project for a digital ngultrum in cooperation with Ripple, it announces in a press release. Such a CBDC (Central Bank Digital Currency) is expected to be a form of national currency that fits the digital transformation in the 21st century. Specifically, advantages for international transfers are mentioned, as is the dwindling acceptance of cash.
Ripple provides a somewhat more detailed outlook on the project in the small state in South Asia. The goal here is to connect 85 percent of Bhutan's 750,000 citizens to the financial system via digital ngultrum by 2023. In a country report published in 2019, the World Bank had already described how a lot of time and manpower has to be spent in Bhutan's everyday life on getting checks and bills from A to B, for example.
Further, Ripple emphasizes the environmental friendliness of its XRP Ledger network, which will be applied in Bhutan in a modified private version. Compared to blockchains using the proof-of-work protocol, such as Bitcoin (BTC), Ripple's solution is 120,000 times more energy efficient, it says. For a country like Bhutan, which is striving for climate neutrality, this aspect is of great importance.
Ripple in Bhutan – but XRP remains out of the picture
Already at the beginning of 2021, Ripple had started to bring itself into the conversation as a technological basis for CBDCs. It had also already developed a special wallet for this purpose. However, while Ripple always aims to use its digital currency XRP as a bridge currency in these initiatives, Bhutan will do without XRP according to the available information. Economically, neighboring China and India play the most important role in Bhutan's foreign trade.
Conclusion: Familiar dilemma with Ripple
The price curve of XRP was not noticeably affected by the news from Bhutan and that seems logical. After all, Bhutan is basically repeating the old story of Ripple and XRP. While Ripple's technology and network are also in demand by banks, for example, and have proven themselves, such reference customers usually want nothing to do with XRP and continue to rely on digitally mapped fiat currencies. The search for practical uses of Ripple for XRP has accordingly been disappointing for years and ultimately also puts pressure on the price of XRP.
---
Best place to buy Bitcoin and Ripple (XRP):