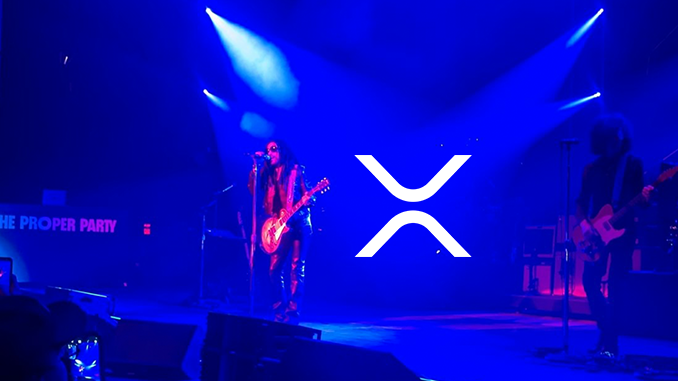 In mid-July, Ripple was able to largely prevail in the legal dispute with the U.S. Securities and Exchange Commission about XRP. This was now duly celebrated with 75,000 visitors in New York and thus demonstrated the cohesion of the community.
Ripple (XRP) has treated itself to a big celebration in New York after its important success in the lawsuit against the US Securities and Exchange Commission (SEC). 75,000 people gathered at the event, such as XRP investor advocate John Deaton reported at X (formerly Twitter). Ripple CEO Brad Garlinghouse emphasized in his keynote speech that they were right to stand up to the SEC. He compared Ripple to a David who managed to beat Goliath.
Ripple had invited rock star Lenny Kravitz as its musical star guest. This also set the tone that the evening in New York was meant to be one of celebration. Garlinghouse accordingly did not comment on possible plans to take Ripple public in the near future. Garlinghouse made the cancellation of the Fortress Trust acquisition public even before the party.
Behind the scenes, however, the SEC is likely to have continued to be the main topic. Because the authority wants to achieve in an appeal procedure that XRP is classified as a security ("securities") after all. The SEC is also interested in being able to lead the case of XRP against other altcoins such as Solana (SOL) and Cardano (ADA). Ripple weighs itself after the first ruling in a strong position – but also the SEC makes clear, for example, by decisions against rapid introduction of Bitcoin ETFs, that one is extremely critical of the crypto industry. Thus, the hit song "'It Ain't Over 'til It's Over" by Lenny Kravitz became a symbol, which translates to "It ain't over 'til it's over" and in some ways reflects Ripple's legal battle.
Conclusion: Ripple and XRP show themselves confident of victory
Just forget about the SEC – for Ripple's managers and XRP investors, that may have worked for an evening in New York. Realistically, however, it would be negligent to tick off the topic of the SEC for good now. Because in the SEC one knows that it would become very difficult to regulate the crypto industry if it remains with the carte blanche for XRP. We continue to report on the dispute between the SEC and Ripple, where legal niceties are currently being wrestled with in writing. In person, representatives of Ripple and SEC are unlikely to meet in court again until spring 2024, according to previous information.
---