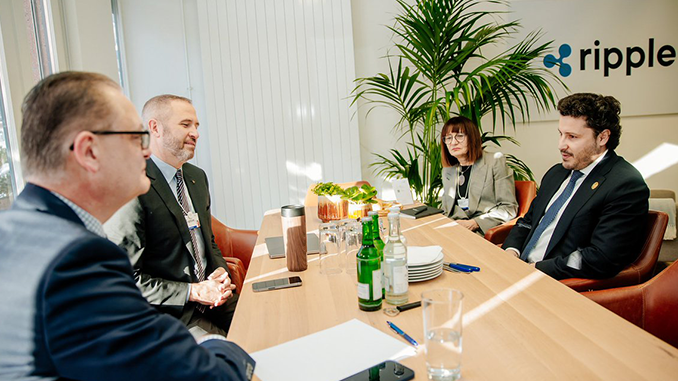 Ripple (XRP) has found another country to cooperate with in a pilot project for a state-owned digital currency (CBDC), Montenegro. Ripple is also accompanying similar initiatives in Bhutan and the Republic of Palau.
Ripple (XRP) has been expanding its involvement in the Central Bank Digital Currency (CBDC) division for about two years. With this comes the hope that in the future, very different countries will rely on Ripple's technology and expertise in their plans for government digital currencies. In Bhutan and the Republic of Palau, corresponding Ripple pilot projects have already been running since 2021, and Montenegro has now joined them as a European state.
After a meeting with Ripple CEO Brad Garlinghouse, the Prime Minister of Montenegro, Dritan Abazovic, announced via Twitter that in a pilot project for a CBDC or stablecoin, the central bank, government and Ripple will cooperate. From a German perspective, this is also interesting because Montenegro uses the euro as its national currency. So it could well be that the project will result in an e-euro whose stability and security will be guaranteed by Montenegro. In the EU, an e-euro is being discussed as a CBDC under the leadership of the European Central Bank, which could be ready for a decision in the fall of 2023.
Montenegro is basically considered open-minded towards Bitcoin and Co.; one is even allowed to pay for real estate with crypto there. The leadership of the dwarf state with just over 600,000 inhabitants likes to make comparisons with countries such as Luxembourg, Malta or Singapore, which have also succeeded in driving forward the digital transformation through financial policy decisions. With Ripple as an experienced cooperation partner and an e-euro, Montenegro could repeat such success stories, is heard in the capital Podgorica. However, official information on details regarding the cooperation with Ripple is not yet available.
Conclusion: Ripple as a basis for state digital currencies – XRP left out
When assessing Ripple's progress on CBDCs, it is important to keep in mind that the now total of three pilot projects are all taking place in very small countries and none have yet produced tangible results. Further importantly, while Ripple will contribute its technology to these initiatives, XRP has no place in the concepts (for now). A direct influence on the price curve of XRP is therefore rather not to be expected, here remains further the outcome of the mammoth trial of the US Securities and Exchange Commission against Ripple predictably critical factor. But at least Ripple succeeds in gaining plus points in its image through its commitment to state-owned digital currencies, as it is doing now with Montenegro.