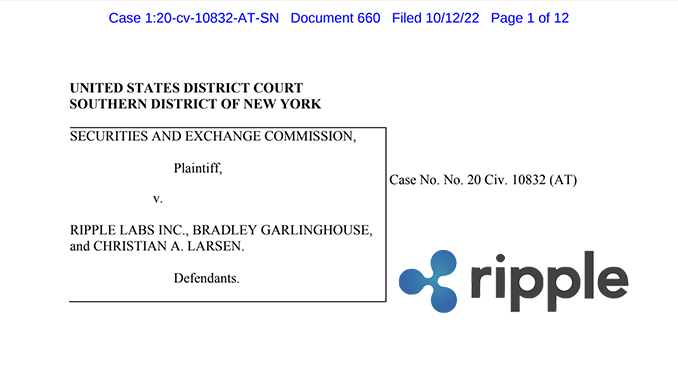 So-called "amicus curiae" are making the case for XRP in the U.S. Securities and Exchange Commission's (SEC) lawsuit against Ripple. The SEC had previously attempted to legally block the admission of these third parties.
In what is supposed to be the final phase of the US Securities and Exchange Commission (SEC) vs. Ripple (XRP) trial, third parties are coming forward as "amicus curiae" in court. They are using a facet of U.S. law that allows parties not directly involved in a proceeding to make submissions when they see their interests affected. In mid-September, the U.S. blockchain association Chamber of Digital Commerce (CDC) had pulled this option, generally rejecting the SEC's thesis that cryptocurrencies like XRP should be classified as "securities" and therefore subject to approval. Thereafter, the SEC had sought to deny further amicus curiae motions.
But the court in New York ruled against the SEC, as process observer James Filan reports via Twitter. As a result, airline service Tapjets and financial services provider I-Remit are now also admitted as "amicus curiae." I-Remit immediately published a submission to the court and explains in detail how XRP is used in daily business.
According to I-Remit, it relies on Ripple ODL (On Demand Liquidity). In this service, XRP is used as a bridge currency for cross-border transactions. I-Remit cites advantages for this method such as independence from the opening hours of classic banks and low fees. However, Ripple ODL with XRP has no speculative character and is certainly not understood as participation with profit intentions, assures I-Remit. One has rather the impression that in the SEC the principle of XRP is wrongly estimated. I-Remit is headquartered in the Philippines and handles payment services worldwide, often using XRP and Ripple ODL.
Tapjets, also now officially "Amicus Curiae," has yet to comment. The company accepts XRP as payment for its airline services and will most likely argue in favor of Ripple as well. In addition, journalist Eleanor Terrett wrote on Twitter that, according to her information, three more petitions for "amicus curiae" are expected soon from parties that also want to side with Ripple and XRP.
Conclusion: U.S. Securities and Exchange Commission Increasingly Isolated in Lawsuit Against Ripple
22 months lasts the procedure of the SEC against Ripple meanwhile. A verdict is expected by trial observers as well as by Ripple CEO Brad Garlinghouse only in 2023. The "amicus curiae" now arguing for Ripple and XRP are not necessarily relevant to the ruling, but at least signal support. The SEC, on the other hand, has no "amicus curiae" on its side so far and continues to struggle to conclusively fill its charge with evidence. But so far, there is no sign of an out-of-court settlement between the SEC and Ripple, so the legal dispute over XRP is becoming a never-ending story.
---