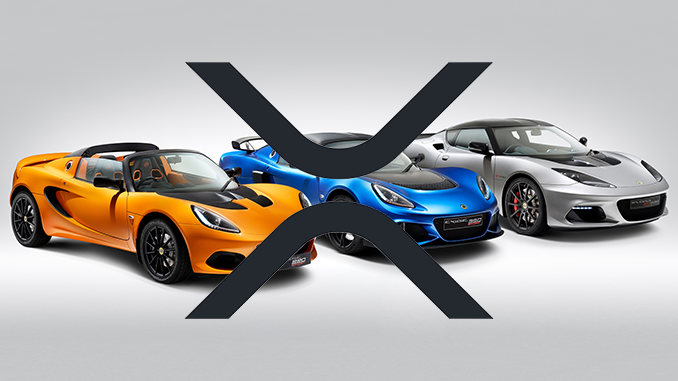 The famous British sports car manufacturer Lotus is preparing its own collection of NFTs and will technologically rely on Ripple (XRP) for it. For the marketing, NFT PRO will be Lotus' partner.
In the arts, sports and entertainment, NFTs (non-fungible tokens) have already garnered some attention and success. Now, the first car manufacturers like Lotus are also approaching the topic of NFTs to generate fan merchandise and collectibles. The British car brand with a long history of iconic sports cars cites Ripple (XRP) as a technology collaboration partner in its press announcement on its own NFTs. Although Ripple has been increasingly involved in the NFTs sector for a good year, it does not yet have any high-profile projects to show. Lotus NFTs are said to reflect the brand's particular style.
With legendary models like the Lotus Elite and Lotus Prestige, the manufacturer is a big name among fans of motorsports and exclusive cars. Unfortunately, there are no examples of how the NFTs will be designed so far. The tie-up with Ripple means that Lotus NFTs will be documented and traded on the XRP network in the future. The NFTs are to be designed by the designers of Lotus and transport "pioneering spirit" according to the press release. With the US company NFT PRO, Lotus has secured the services of an experienced marketer for the project.
Debut of Lamborghini NFTs a success
Lamborghini's competitors had already launched their first own NFT collection in February, fetching up to a good 200,000 US dollars for individual pieces at auctions. The official website for Lamborghini NFTs shows elaborately designed collector's packages that also include physical components such as a picture frame. What extras Lotus will come up with remains to be seen.
Many sports car manufacturers have been building up their own merchandising for decades or granting brand rights for attractive products. In Germany, Porsche Design is a well-known example of this. The ulterior motive behind such strategies: If fans can't afford the expensive cars, they can still get an affordable piece of their favorite brand through licensed products ranging from watches to smartphones to bicycles. NFTs extend these offerings into the crypto realm; Lotus speaks of the first step toward Web3.
Conclusion: Lotus NFTs also a pilot project for Ripple
While around Ripple (XRP) in the U.S. the agonizingly long court case with the SEC continues to dominate the image and future plans, the Lotus NFTs should offer a welcome change. Here, Ripple can now prove with a big name that it knows how to put its NFT initiatives into practice. Lotus promises to release more details on its NFTs very soon. We can probably get used to the idea that in the medium term, NFTs from car brands will be part of the good tone in the industry. In the future, NFTs from Lotus or Lamborghini can be expected as prestige pieces in the metaverse.
---