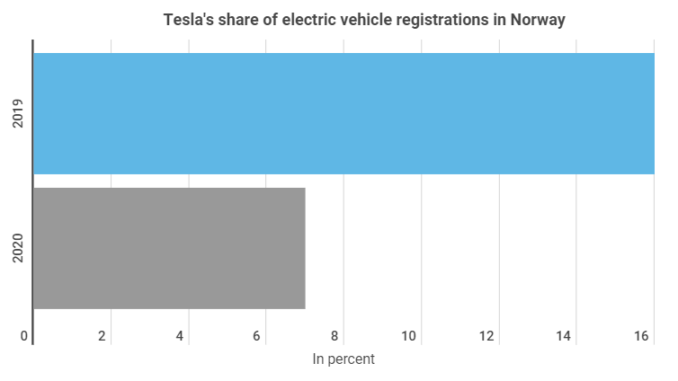 Norway is viewed as a pioneer in the field of electromobility. Around 60% of vehicles sold there run on electricity. As a new infographic from Block-Builders.de shows, the proportion of new registrations of Tesla cars there has recently fallen considerably. In 2020, 7% of electric cars sold will have been made by Tesla, compared with a 16% share last year.
15,686 Tesla Model 3 vehicles were sold in Norway last year. Yet by the end of September 2020, sales still had not reached 3,000 units. This was shown in data from "Seeking Alpha". Norway is by no means the most important car market in terms of absolute sales figures, but such a development in the land of electromobility could presage a reversal of the trend.
Between 1 January and 24 September, the Audi e-Tron held first place in terms of new registrations of electric vehicles, with 7,801 new cars on the roads. VW's E-Golf is in second place with 4,881 units.
Telsa Performance Worldwide
Outside of Norway, the outlook for the US electric vehicle manufacturer looks very positive. Tesla sold a total of 90,891 vehicles in the second quarter, compared to 95,356 units in the same period of the previous year. However, the electric pioneer has weathered the corona crisis comparatively well compared to other car companies such as BMW, Daimler & Co. German competitors in particular have had to accept significantly higher losses.
As the infographic shows, global developments are also mirrored on the trading floor. The price of Tesla shares has risen by a whopping 718% within the last 365 days, while the market capitalisation of numerous competitors has declined over the same period.
Trend Towards Electric Mobility
Overall, the evidence suggests that e-vehicles will continue to grow in popularity. Over the first half of the year, 40% more battery-fitted electric cars were registered across the European Union than in the same period last year. Sales for petrol and diesel cars, on the other hand, are down by 44% and 43% respectively.