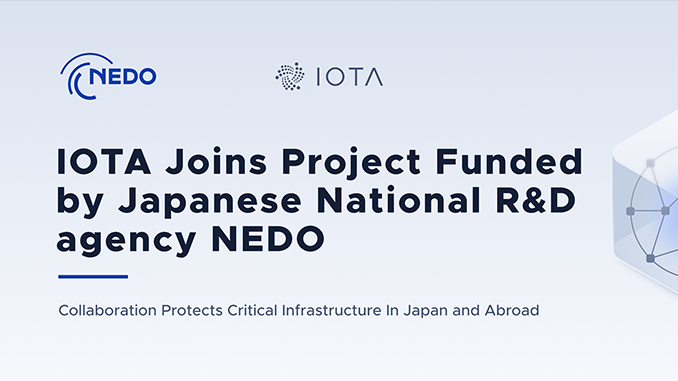 In Japan, maintenance and risk management of power plants are to be made more efficient through the use of artificial intelligence and automatic data acquisition. The state development agency NEDO has selected IOTA as the technological basis for this and is financing the large-scale project.
A new major project is on the agenda at IOTA: In Japan, power plants are to be made safer and more efficient, and the use of databases and Artificial Intelligence (AI) is planned for this purpose. As the IOTA Foundation proudly reports in a blog post, expertise and Tanglenet will contribute to the project. The project is financed by the Japanese development authority NEDO (New Energy and Industrial Technology Development Organization). According to IOTA, a budget in the millions is available. A total of around 30,000 power plants are to be upgraded to make the critical infrastructure future-proof.
Background on IOTA in Japan
The IOTA Foundation writes that in Japan, operating data of power plants are mostly still collected and analyzed manually. To change this, sensors compatible with the IOTA ecosystem will be used in the future. They will then send their data in real time to nodal points where artificial intelligence will be used to make predictions about when which maintenance work will be necessary. The Japanese say that this is also a response to the challenge of an aging society. Many local risk management specialists are retired and AI will help to replace the lack of young people. NEDO has commissioned two Japanese companies, Best Materia and IMC, as project partners for the AI sector.
According to IOTA, NEDO chose Tanglenet, among other things, because it provides security against cyber criminals and manipulation. IOTA's system allows it to specify in detail what data is shared with whom. Connections via the new mobile phone standard 5G, for example, are to guarantee data acquisition and exchange in every situation. The IOTA Foundation can well imagine that the cooperation in Japan will result in a system that will also be in demand in other countries and industries.
Conclusion: IOTA expects money and preaching from Japan project
On Twitter, developer Hans Moog is happy about the major order from Japan for IOTA. He emphasizes the practical use case as well as financial resources. In the summer there had been discussions about whether the IOTA Foundation still has sufficient financial reserves for 2021. Although IOTA does not give any figures on how much project funding it expects from NEDO, it does have a budget for the future. However, according to IOTA, the equivalent of several hundred thousand euros per power plant alone is estimated in order to prepare them for the new risk management system. A good part of this money will probably go to the IOTA Foundation, which of course hopes to use the large-scale project to promote IOTA technology.
However, according to the information available, there are no plans to use IOTA as a crypto currency in Japan. Thus MIOTA is still stuck under the mark of 0.30 US dollars. Investors continue to keep an eye on the development of Coordicide aka IOTA 2.0, which will decentralize Tanglenet. Investors expect this change announced for 2021 to have a positive impact on IOTA's price curve.
---
Best place to buy Bitcoin and IOTA: