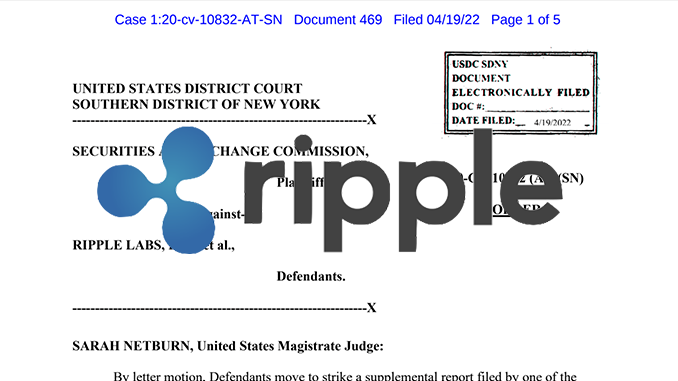 No end in sight in the court case of the US Securities and Exchange Commission (SEC) against Ripple (XRP): now the SEC has even accepted a disciplinary penalty in order to gain additional time for the taking of evidence.
Pretty much exactly 16 months ago, Ripple (XRP) had startled the crypto industry with the news that they were expecting an indictment from the US Securities and Exchange Commission (SEC). The indictment then became public just before Christmas 2020 – and Ripple has been effectively out of business in the U.S. and Canada ever since. Expectations that the lawsuit could finally end this summer are just evaporating into thin air. That's because, once again, the SEC has seized an opportunity to drag out the proceedings.
In her latest decision, New York Judge Sarah Netburn makes it clear that she is annoyed with the SEC, which submitted an expert report on the last day of a deadline. But she admits the report, invites Ripple to respond, and orders the SEC to reimburse Ripple for expenses. "Improper conduct" is what Netburn calls the SEC's move. It had already been trying to speed up the mammoth proceedings in recent months.
There process observers see the chance of victory for Ripple meanwhile increased. Because the SEC can not explain conclusively why it waited until the end of 2020 with the charge against Ripple because of XRP. By then, the agency had already exempted Ethereum (ETH), for example, from a registration requirement under securities rules. But the SEC wants to prove that Ripple should have sought approval in 2014 to sell XRP. Ripple, on the other hand, sees XRP and Ethereum as comparable and could prove it had thought internally about a possible approval requirement for XRP. Lawyer Jeremy Hogan, for example, who follows the process closely, writes on Twitter, of a "weak position" of the SEC.
Lawyer colleague James Filan, likewise well-known process observer, updated meanwhile on Twitter its temporal prognoses for the procedure. According to this, the hearing of evidence and negotiations could drag on until October or November 2022. A verdict in this year is then rather not to be expected, according to Filan. However, Filan had also recently commented that the SEC was running out of arguments against Ripple because of XRP and that the time game of the authority was obvious.
Conclusion: Ripple needs patience – SEC in trouble
Only a few days ago, Ripple CEO Brad Garlinghouse had spoken of an "extraordinarily good" progress of the process, but also named the "slowly grinding mills" of the judiciary. It seems to need further patience until the status of Ripple (XRP) is judicially decided in the USA. But if the SEC, which is otherwise so sure of victory, does not pull another trump card out of its drawer, it will probably have to expect to remain without much legal success against Ripple and XRP.
---
Best place to buy Bitcoin and Ripple (XRP):