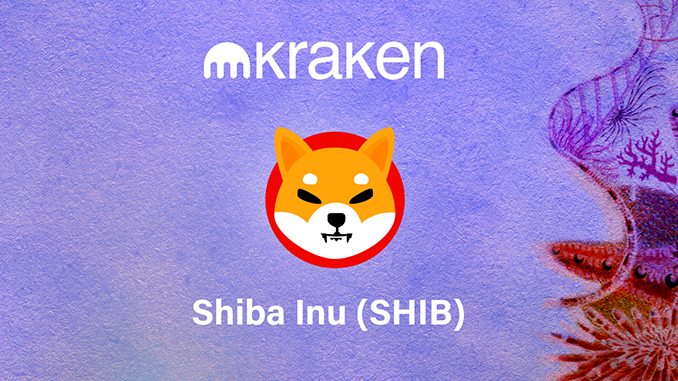 By about 30 percent, the price of Shiba Inu (SHIB) shot up when the US crypto exchange Kraken announced the listing yesterday. Other news is also supporting SHIB.
The image as a highly volatile cryptocurrency is currently fulfilled once again by the self-proclaimed Dogecoin killer Shiba Inu (SHIB). Just last week, the price curve of SHIB led into negative territory, but now things are looking up again for Shiba Inu. After the crypto exchange Kraken announced to list SHIB on Tuesday, the price curve temporarily jumped up by 30 percent. With a market capitalization of now around 25 billion US dollars, even the TOP 10 of the most important cryptocurrencies for Shiba Inu is within reach.
SHIB is often derided as a meme coin that lacks use cases. However, with electrical retailer Newegg and crypto financial services provider CoinGate, two major US companies announced in recent days that they will accept Shiba Inu as a payment method. They are joined by ShibaSwap as their own decentralized crypto exchange, with SHIB at its core. The examples show that SHIB is slowly succeeding in being taken more seriously. After all, Dogecoin (DOGE), another so-called meme coin, is urgently waiting for such use cases.
Nevertheless, there is also something to Shiba Inu's reputation as a speculative asset. The previous week's price losses were attributed to profit-taking in SHIB, and now major investors are stocking up on Shiba Inu again. The anonymous trader Gimli, for example, currently bought SHIB for a good 1 million US dollars, as WhaleStats points out.
Dogecoin vs. Shiba Inu – the bizarre duel continues
Shiba Inu had self-deprecatingly positioned itself as a challenger to DOGE at its launch in August 2020. What probably started as a joke has since developed momentum of its own – Dogecoin and SHIB are close to each other in terms of market capitalization and at the end of October, Shiba Inu was even able to temporarily overtake its rival in the ranking of the most capitalized cryptocurrencies.
How the much-noticed duel between SHIB and DOGE will turn out in the medium term is hard to predict. Skeptics continue to believe that a total crash of both altcoins is possible because they lack substance. On the other hand, Shiba Inu and Dogecoin are now listed on all major crypto exchanges and move billions in daily trading volumes. Thus, there is also a lot to be said for the price caprices of DOGE and SHIB continuing. Whether the duel needs a winner at all in the end … Even Tesla CEO Elon Musk, who has repeatedly promoted Dogecoin through his tweets as "Dogefather", could help decide.
---
SHIB is traded on Binance. Open a Binance Account here and save 10% on fees for a lifetime.