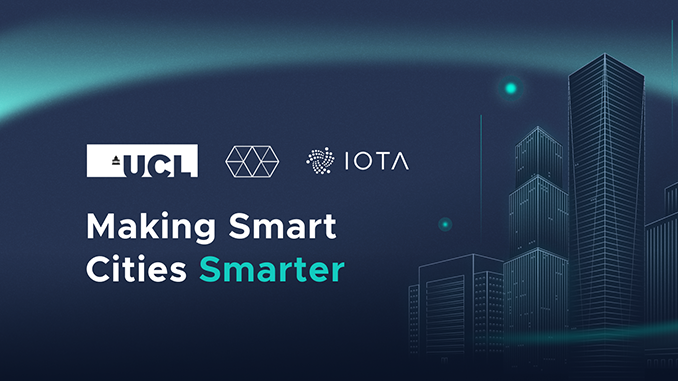 The IOTA Foundation has agreed a strategic partnership with the Construction Blockchain Consortium (CBC). The goal is to organize smart cities more efficiently.
IOTA has become known as a project that aims to smartly connect the Internet of Things (IoT). In the process, the IOTA Foundation has forged early collaborations, including with the construction industry and urban planners who are developing smart cities. From Recycling 2.0 to charging points for e-vehicles to supply chains as early as the construction of new buildings, the challenges posed by smart cities range. So the new strategic partnership between IOTA and the Construction Blockchain Consortium (CBC) fits the bill perfectly. The CBC, based in London, is a hands-on facility where modern concepts and templates for the construction sector are emerging, according to a statement from the IOTA Foundation.
By 2030, the construction industry worldwide will grow strongly by 85 percent, notes the IOTA Foundation, citing a recent study. According to the study, the lights are green for brisk activity in the construction industry, particularly in the USA, India and China. It seems to be a foregone conclusion that a good portion of the investments will flow in the direction of smart homes and cities. IOTA has already worked on pilot projects for smart cities from Taiwan to Norway and sees this as confirmation of its visions.
The Construction Blockchain Consortium recognizes in IOTA solutions such as IOTA Identity good tools for documenting and evaluating information of a smart city right from the construction process. For example, individual buildings and equipment such as heating systems can be given a unique identifier via IOTA Identity, to which relevant details are then entered and archived. Since this is to be done via a closed IOTA network, the risk of external hacker attacks is reduced at the same time.
CBC and IOTA Foundation now want to explore a joint pilot project for smart cities, which will then demonstrate to the construction industry how the use of innovative solutions pays off. The IOTA Foundation also plans to bring existing external partners on board. IOTA and Construction Blockchain Consortium did not provide details on budgets and timelines.
Conclusion: IOTA Smart City – dreams of the future or soon reality?
Many investors have gotten into the habit of looking into IOTA to see what will then really become of big-name announced pilot projects. The IOTA Foundation has already established a reputation in the smart cities sector and the cooperation with the English CBC is also opening new doors. If IOTA takes advantage of opportunities here, relationships of trust will result. In smart cities, IOTA also has potential as a means of payment for automated billing of electricity or services, for example.
---
Best place to buy Bitcoin and IOTA: